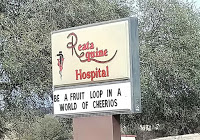 Best suggestion ever!!!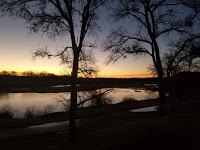 Every sunrise is a blessed event!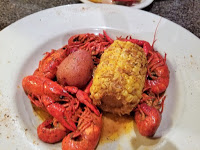 I had my first crawfish…I just don't get it?!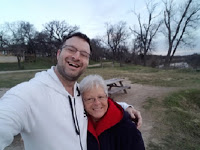 The afternoon of my surgery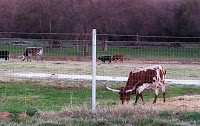 An authentic Texas long horn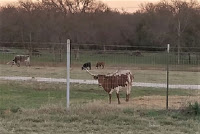 Wutchu looking at???
A gorgeous white moth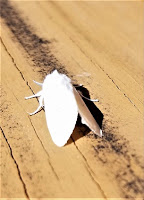 Tres Rios RV Resort is a place I'll always hold dear to my heart! It's a place where strangers became family in a 'split second'. I went to the doctor for what I thought was basically some routine tests. A phone call a few hours later proved me wrong. The doctor said he was very worried about me and he needed to take care of the problem tomorrow at noon! Alrighty, then!!! It seemed that I had a kidney stone lodged against my kidney wall. Also, portions of the wall was stretched thin and there was a blockage keeping a proper flow from moving into my bladder. The fact that I had not experienced any pain astounded him. He was thinking the situation had existed for nearly 2 years and I should have been in excruciating pain. Well, that was enough for me to say…OK, let's do it! He needed to unclog the blockage and bust up the stone so he could remove it completely. Then insert a stent into my kidney to remain in place for 7 days!
Suddenly there were a million emotions running rampant through my body, mind and spirit! A woman, who, traditionally was quite brave and independent, found herself a little frightened and feeling alone. That woman was me! So many decisions to make in a very short period of time. First, I posted a prayer request on Facebook…thinking that one can't have too many angels rooting for them. I knew that I needed someone I cared about to be with me. A small monkey wrench in that idea: everyone who really fit that bill was 2,000 miles away. I decided to at least make an effort to do what I'm not fond of doing and that was to ask for an enormous over the top favor. I called my son and asked if he could fly out for a couple of days. He didn't even flinch and was able to book a flight that would get him to the hospital just after I went into surgery and allow him to be there as soon as I woke up. What an incredible blessing that was for me. A gift I will cherish always.
Then there was the hospital policy that someone had to be at the hospital with you during surgery. That took a bit more contemplation. I walked into Texas Hall where a fun group played Dominos most evenings. I explained my dilemma and there were offers all around the table. Tears of surprise and gratitude poured from my eyes. Deanna ended up going with me that following morning.
Then there was the fact that I was scheduled to leave the campground on Friday morning. This news of emergency surgery came on Wednesday. So, I went to the office and spoke to a gentleman who took care of everything. I didn't realize I had a free week of lodging as part of my membership package. So, Matthew and I were able to spend the 2 nights he was here in luxury! I was also able to finish my recuperation period there. Wow! That was such a blessing…space, heat, hot water, a stove, a REAL bed, etc. Matthew slept on the sofa!!! What a trooper!
The surgery went extremely well! The best possible outcome had occurred. Blockage cleared and stone blasted by laser and removed. Deanna had stayed until I woke up. Once the doctor released me to go home…Matthew and I went out to lunch! Back at the park, we relaxed a bit and then to play Dominos with my other angels for an hour or so. We kicked back and watched a movie and talked and talked!!! I was so happy that he came to be with me for awhile! Family…it's something difficult to explain the value of. Friends, near and far, are right up there as well!
Matthew returned to MD and i rested a lot for the next 4 days. I got into my car to go to the doctors for my follow-up and release….and…it wouldn't start! Thank goodness I left 3 hours early planning to run an errand or two! I went and got Wayne, Deanna's husband, and he checked my battery and it was NOT happy! It did take a charge though and he followed me to Walmart where I bought a new battery. All the service bays were full, but when I explained that I needed to be at the doctors…they bumped me up and had me out of there in 20 minutes! ANGELS everywhere!
This story took place between Feb. 15th-Feb. 22nd. It is now Feb. 26th. I am at my friend, Bud's house in NC resting and doing some last minute packing! Tomorrow is the big day…we are off to Ecuador for two weeks. I plan to take gobs of pictures and keep very good notes because I will not be blogging during our adventure! When I fly into MD, after we return from Ecuador, I will work on matching pics and notes to post about our trip!
BRIGHT SPOT – My first day in the Glen Rose area of Texas, I stopped for dinner at a cool place called Flames. It is a seafood grill and every single thing about my experience was perfect! The food, the service, the ambiance, etc. My server, Fjolla, was wonderful. As we talked, I discovered that she and her husband owned the restaurant. She was born in eastern Europe, Kosovo. She met her future husband who was there visiting his family. They talked back and forth for about a year. They decided to get married here in the states about 10 months ago. Instead of a big wedding they opted for a few weeks of US travel! Even though Fjolla was embarking on a new and exciting journey, it was difficult to leave her family. She started working at the restaurant as a hostess, then a server. She sent her tip money to her sister to pay for braces on her teeth. Now, she is just loving her new life here and is feeling very grateful for this unexpected and delightful change in her life!