Mount Zion NP was spectacular and huge! In the visitor center, we barely heard what was being said to us because our focus was drawn to the rock formations…'on steroids'!!! LOL There are several trails and we hiked 4 of them…all of which gave us the Mt Zion experience from a different vantage point. There are also 'sections' of the park that you need to drive to to hike certain trails. After the main areas, we ventured to one of them named Kolob Canyons. If you ever have the opportunity to visit this park…do not hesitate as to whether it is worth your time…not all national parks are created equal!!! This one is superb!!!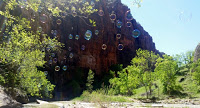 Of course I was blowing bubbles while
laying in the grass at the park!!!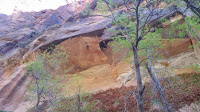 Looking almost straight up!
Blurry, but I think you can see
what they called the Hanging
Moss Garden
Perspective…see the bldg
on the lower left? Imagine the
height of the formation
Is the sky falling???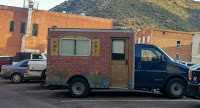 How clever!!!! Beats the heck out of a
traditional cap, don't you think?!!!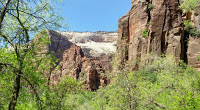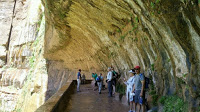 Standing behind the water-fall-sprinkle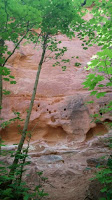 Loving the color contrast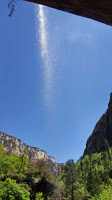 Also behind the waterfall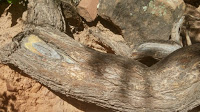 The colors in this wood were great…might
have to use your imagination a little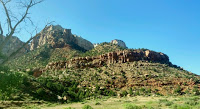 Now, Kolob Canyon…
This was actually taken as we were approaching
Mt Zion.
Very creative design for
a walking path
A small part of Mother Nature's canvas
If you can zoom in, you will see two young men
standing on a cliff/rock…they are about 7,000′
up and on the very edge!!!
We were watching them and when they stood
straight up, stretched and turned around to head
back to where we were….I couldn't even look!!!!