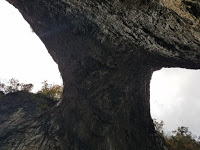 Shot standing directly beneath the bridge
I am never disappointed at how nature creates spectacular structures for us to marvel over! The Natural Bridge in Virginia is one such place. It was actually once owned by Thomas Jefferson. It is a 215′ limestone gorge that was carved out by Cedar Creek. I walked the Cedar Creek Trail from the bridge to the Monacan Indian village where living history programs are offered and finally ended up at Lace Falls displaying its 30′ cascade! It was truly a lovely way to spend an afternoon.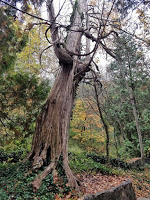 Just a totally awesome tree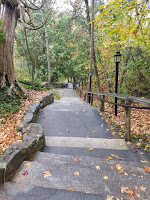 Part of the path to the falls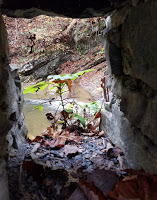 Along the walking corridor to
the falls there were openings for
rain drainage. I couldn't help
but to get down and see what I
could see through one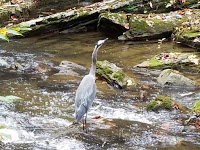 Hungry heron watching for an opportunity
to grab some lunch!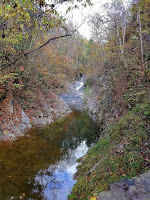 Lace Falls
The Natural Tunnel within the Appalachian Mountain range is yet another amazing natural phenomenon. It's a massive cave so large that it is used as a railroad tunnel. It's about 200′ wide and 80′ high. It started forming about million years ago and its walls as well as the creek bed are filled with fossils. Unfortunately, visitors can't get close enough to check that out with it still being an active track. But just sitting on the viewing platform at the base of hundreds of steps was a delightful experience. There were few sounds save the leaves rustling on the trees far above. An occasional bird appeared to share a tweet or two. Such a sweet silence.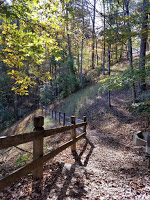 The path to the tunnel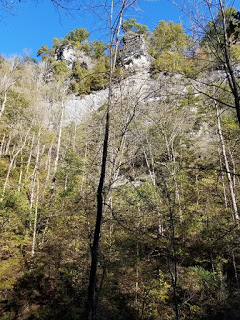 This is the pinnacle where the
lovers leapt to their death
BRIGHT SPOT – George, Part 3 – George's speaking at the UN was a continuation of the ongoing effect his brother Bob had on him. He hoped his work with the debating team at the University of PA would not only help them win intercollegiate debate contests, but to serve them in challenges throughout their lives.
He wondered how much of an impact the "instruction" would actually have. The answer came over the years as several students became authors. One became Dean of a university law school. The best known of them were Harvey Cox, author of The Secular City and Arlen Specter, who served as senior US senator from PA. George was convinced that his approach to 'coaching' had worked!
George didn't receive a diploma because he had many differences with his insurance professors. His seminar paper dealt with a concept that was deemed impractical and useless (it was subsequently adopted by the industry) therefore earning him an "incomplete". George entered his father's agency participating in the management of companies such as Lloyds of London, Holland-America and several British insurance companies. A year later, he served in the Korean War as a second lieutenant leading a weapons platoon. He was in active service June, 1950-August, 1950. He shared with me 2 events during his overseas service.
1- He was the last soldier, carrying other soldiers' weapons, as his regiment moved locations. He lagged behind a bit hiking through very tall grasses during a hazy pre-dawn morning. Suddenly he became aware of an enemy patrol crossing into the area that he occupied. His survival required him to lay face down and remain motionless to give the impression of being dead. He made a promise ti his God that if his life were spared, he would serve the inhabitants of His earth in accordance with His laws the best he could. subsequently, he rejoined his regiment.
2- One time, his regiment was lined up along a barbed wire fence on a high ground overlooking a valley. On the other side was a similar line occupied by North Koreans. After supper, George's regiment was informed that it very likely that they would be attacked as the darkness grew. Many of the troops were young and afraid as they awaited the looming darkness. To pass the time and relieve stress, George started to howl like a Wolfhound. Once everyone was done looking at him like he was crazy, the howling began its contagious run and it spread throughout the entire regiment for hours until the men grew a bit weary. Through the last hours before dawn, the troops anxiously awaited the attack that never came. As it was told in the morning, the North Koreans were so frightened by the howling that they abandoned their post and retreated to safer ground. They won the battle without firing a single shot!!!
After his active service was completed, George returned to the family insurance firm. Awhile later, he married a woman that was carrying his child. The marriage did not last but a few years. George's brother Bob wanted to leave the field entirely and was also going through a divorce. Their father arranged the sale of the entire complex except the original local agency which was blended with another having George's father as its chairman. Within months, George and his brother discovered that they were living only a few blocks apart in New York City!
George found employment with a non profit firm engaged in international exchange programs. it was their he met his wife to be and married in 1962. He re-entered the insurance business as a staff planner and researcher to earn more money. He also became involved in many social organizations concerned with behavioral problems among the youth and adults in the Philadelphia area. One was a firm called the Citizens' Crime Commission. Eventually the true practice of insurance was lost due to many changes in policy. This caused George to leave the industry for good. He was hired by the local Chamber of Commerce and was appointed the executive director of the CCC.
George shared that he had quite a revolutionary approach to reducing crime in Bucks County, PA and that he would share that with me in his next communication. It has been nearly 2 months now since I have heard from George and after several attempts to communicate with him, I have had no luck. I have one other idea about how to find out what is going on with George. I will add a post if and when I discover the reason for his discontinued emails. What a treat it has been to share George's story up to this point. Thank you, George, wherever you are. God bless you.