Until Sunday I had just been hanging out with my Daughters and grandson and it has been wonderful…playing; talking, planning, eating, etc. I did manage to lose my bankcard and keys at the store in the same day. The card was turned into the customer service counter by an honest soul! The keys were found by me on the pile of tank-tops that I had been looking at over a half an hour ago. Hooray!! I guess that could be a BRIGHT SPOT FOR ME. Yippee!!! Oh and a big thank you to my daughter Rachel for attempting to get a hold of Good Sam roadside assistance for me and to Linda the store manager for loaning me her cell phone.
Van-Go ready for the week!
I arrived at about 8pm to the Muddy Run Campground in PA and the guy at the entrance was great. He said that we was so glad to see me…he had been wondering if I had changed my mind or had gotten lost. He handed me my tag and infor sheet with a wonderful smile and wishes for a fun stay at the park. I got settled in…top poped, bike outside, electric and H2O hooked up, bed ready, and a new book to tackle…all before it got dark…LIFE IS GOOD!
My oh so awesome
party lights… lol
Hear they come
Monday morning brought much sunshine and humidity! OMG- I forgot how gross it is…the latter of course. I was determined to get some firewood, so I hopped on the bike and after a mile of ups and downs I was at the store. I'm not sure what possessed me to think I was going to ride back with a bundle of logs bungee-d into my little basket! However, I found myself in a position where that seamed to be the only option… and… I pulled it off. It'll look my "adventure resume", but I won't try anything that insane again anytime soon. LOL
The rest of the gaggle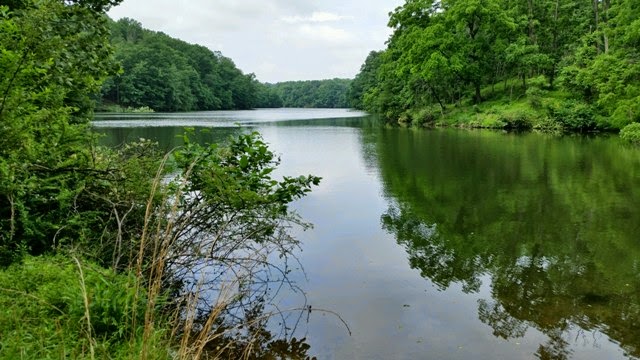 One end of the lake
Tuesday morning, I discovered a walking shortcut to the office store which just happened to be a stone's throw from the beautiful lake and boating area. I found the perfect spot under a shady tree and sat there reading and watching georgous butterflies flutter all around me. About an hour or so later, I watch about fifteen huge geese glide toward the shoreline, get out of the water, and waddle their way right to where I was sitting. I was surounded! And they were "yelling" at me…LOL. After about twenty minutes of this I got my things together and walked gingerly toward a group of them the "get out". Fortunatly, they spread out and allowed me safe passage…PHEW! It was like the parting of the Red Sea LOL.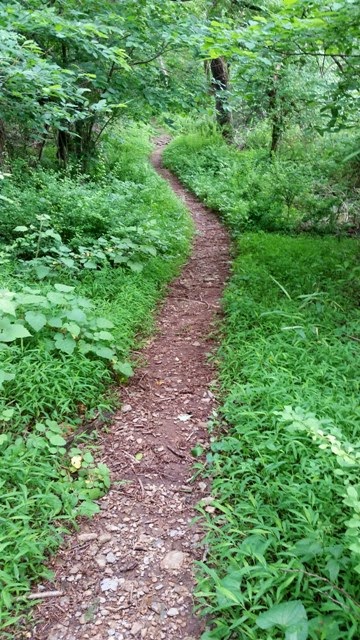 A lovely smooth, flat
section of the trail.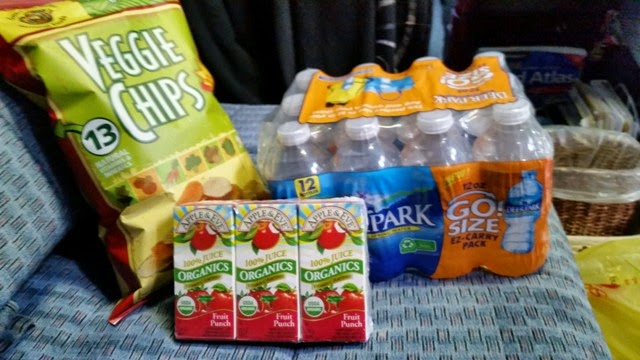 Treats from my friend
Later in the day, a dear friend who lives near by brought me a homemade dinner, bottled water, snacks, juices, a first aid kit, and few other goodies for Van-Go! It was a lovely surprise and an especially lovely visit. Thanks my friend!
This morning, Thursday, I hiked the trail I had planned to take my grandson and his step-brother on this weekend so I could be falimier with it…WELL, good thing I did!!! Ain't no way we are taking that trail! It is georgous, there is a lot to see, BUT… it's a three mile, varied terrain, two point five hour treck on a slant! Plan B is stiring in my mind at this very moment LOL.
Well, that's it for now…gotta ice the anckle…Oooh, ouch. There will be plenty to share on Sunday when we return from our camping adventure I'm sure.
Trail Pix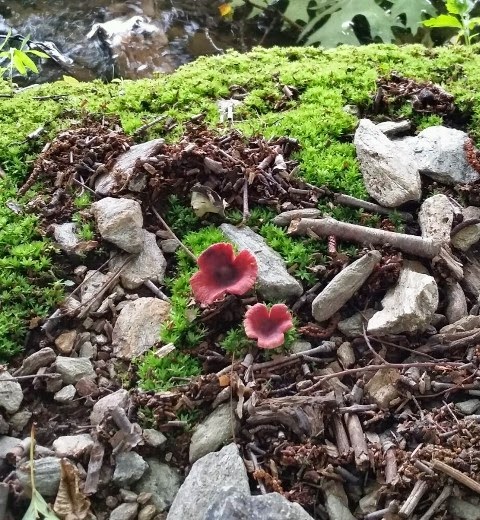 Red flower 'shrooms!
Awesome!
Bushy bushy tail
Don't worry, I gotcha!
Coolness growing on log!
The "Shroom Family"
This post also brought to you through cellular collaboration.