The Palmer Lion's Club offered a complimentary breakfast buffet on Saturday morning before the parade. We got there just in time to feast on pancakes, 2 types of eggs, biscuits, gravy, sausage, sweet buns, coffee, juice, etc. Yummy!!! The street was getting filled when we left the hall, so we moseyed around until we found a clear enough spot for someone SHORT to be able to see…LOL It was a proud "small town" event if I ever saw one. Local everything! It was cool.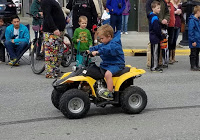 Too cute!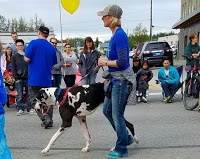 This dog was so cool!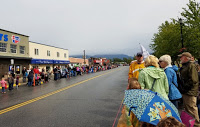 The rain stopped just in time for the
parade…woohoo!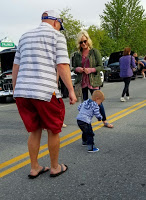 This little guy was dancing
like a pro…this was the day
before at the Classic Car Show
The Alaska Vintage Motorcycle Show was a popular event. There were oldies dating as far back as a 1919 Harley and of course, the spectators with their fully loaded cycles! Both were quite impressive! Carl, being a Harley man from way back was in heaven…lol I liked the ones with a side car and the new kind with two wheels in the front and only one in the rear, a Can-Am…kinda difficult to fall over on that kind!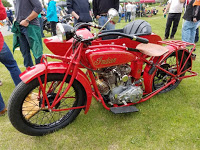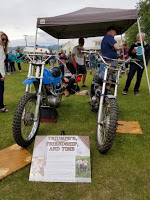 These guys have been riding
together since they were kids
The absolute highlight of the day was getting to feed and pet and hang out with REINDEER! Their antlers were so fuzzy! We learned so much. Their antlers start out soft, rubbery and covered with a furry skin. They grow rapidly and harden and the fur sheds. Then depending on age and the season, the actual antlers also 'fall off'! Males shed their antlers in winter or spring. Females shed theirs in the summer. Do you realize what this means? Santa's reindeer were girls!!! Oh, yeah…LOL
The hooves also go through somewhat of a transformation seasonally. In summer, the foot pads soften providing extra traction on wet ground. In the winter, they tighten, revealing the rim, making it easier to navigate on ice and snow! How awesome is that?! Finally, the owner of the reindeer farm nearby told us that they can actually jump 6+ feet straight up! "Up on the rooftop, reindeer paws….."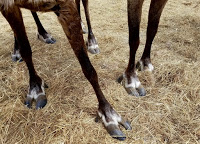 Awesome hooves, huh?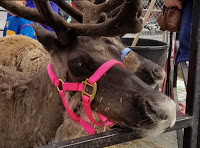 Look at those eyes!!!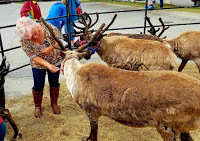 Two takers!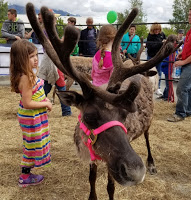 My right side, please!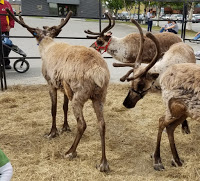 Molting…getting ready for summer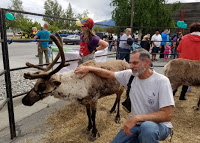 Yet another new friend for Carl!