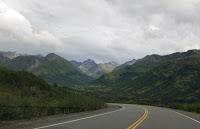 Gotta love the peaks and valleys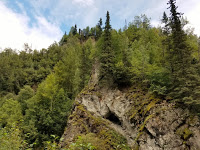 A mountain cave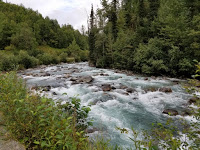 Rushing river along the side of the road…
LOUD, refreshing and gorgeous!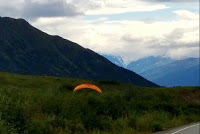 Coming in for a landing!
WE wondered how the vistas in Alaska could possibly continue to amaze us as we drove up Skyscraper Mountain along Hatcher Pass. We were headed to Independence Mine to pan for gold!!!
We didn't find any gold, but we had a blast searching…LOL With pans in hand and a shovel to boot, we were off! Scoop up mud, stones and water….shake that pan…keeping an eye out for bling and dump it out again! Yep, we did that over and over for…quite awhile!!! We thought we saw a few specks, but nah! Passersby stopped to check on us several times to wish us good luck! We really had fun! You know what 'they' say…"It's not the destination that matters, it's the journey."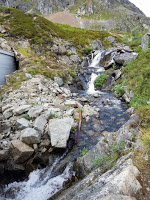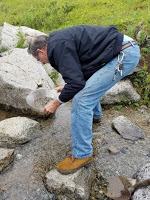 We also learned a lot about gold mining in that part of Alaska! Gold has played an important role in Alaska's history way back as far as 1897. It was first discovered in Grubstake Gulch, a little tributary to Willow Creek. By 1898, miners were prompted to form the Willow Creek Mining District to record claims and keep general law and order. By 1937, construction of Independence Camp and Mill had begun. It wasn't long before it became a year round permanent mining operation! In 1974, the Independence Mine was placed into the National Register of Historic Places and was dedicated as a historical park in 1981.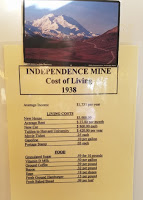 This is crazy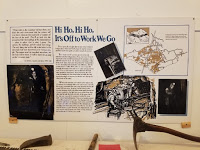 Reading this, I felt like an 8th Dwarf! LOL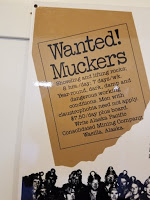 Hard to imagine anyone would
sign on to work given
these conditions…the dream
of making it big, I would think.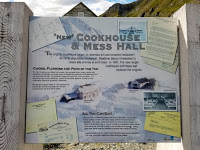 Check out the menu!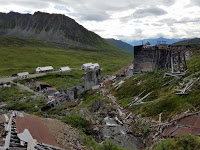 What's left of the original structure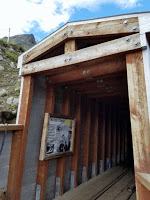 As you walked into this water tunnel,
it got extremely cold…strange sensation