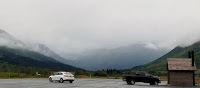 View from pkg lot waiting for tour to begin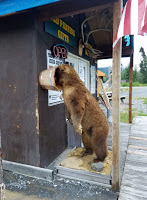 Bear gone fishin'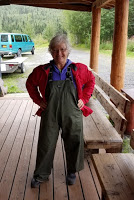 Nice outfit, huh?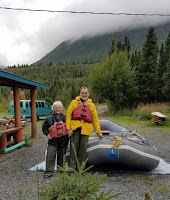 All suited up and ready to go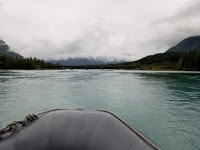 Kenai River view from the raft
How much fun can you have on a cloudy drizzly day in Alaska? Plenty! Carl and I went on a 3 hour scenic rafting trip from Cooper's Landing to Jim's Landing…a 14 mile winding route through the Chugach Mtns. Cooper's Landing was originally inhabited by gold prospectors in the mid-late 1800's. Now the community is best known for its sport fishing. Speaking of fishing…we floated past the area along the Russian River where combat fishing occurs especially heavily during the months of July and much of August. Combat fishing is where excited and determined anglers stand shoulder to shoulder along the banks and cast their lines in hopes of a great catch! All five varieties of salmon are plentiful during that period of the summer…King, Silver, Red, Pink and Chum.
Scotty…our 'muscle' for the trip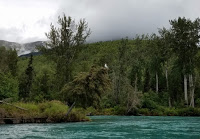 Bald eagle watching for salmon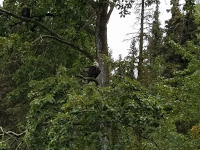 Aaaahhh…another bald eagle!
The anglers are not the only ones keeping an eye out for a great catch…bald eagles sit high up in the trees waiting for just the right moment to swoop down and grab a treat…right from the river or off of a fishing line!!! Our guide, Scotty, was amazing at spotting the eagles and maneuvering the raft close to the shore to get pics. He told us that when an eagle hooks into its prey with its talons, it is stuck! They can't wiggle loose and there have been occasions when the prey is too heavy for the eagle to fly with and it gets carried under and drowns.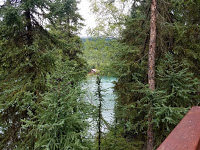 Views from the raft
Teeny rapids…lol
Mini island along the river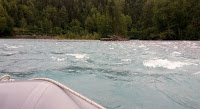 The Kenai River was relatively smooth with only a few little rapids. Its most prominent feature is that it begins at Lake Kenai and dumps into and spills out of Lake Skilak. The water is a chalky blue-green color caused by ultra fine glacial silt. It is clear enough though that we were able to look over the side and see salmon swim all around us.
What a fun excursion! It was especially great because it was only Carl and me and another couple…plenty of room to move around and get good shots! Normally there are 12-15 people on the raft….yet another reason to be grateful for a cloudy day!!!