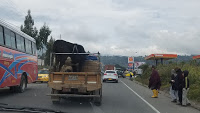 A quintessential street scene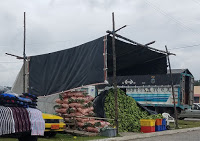 Look at all those bananas!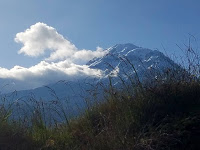 Vistas along our drive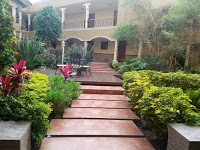 Hotel courtyard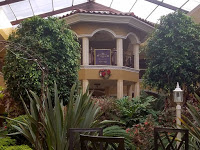 Our hotel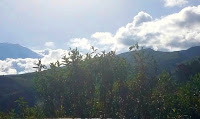 Another delightful view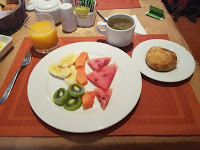 Breakfast everywhere always included
beautifully displayed fresh fruit. Then,
the eggs, ham, potatoes, etc. were served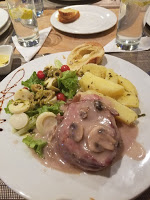 Yummy dinner
We were not sure where on route to Cuenca we were going to stay the night. After more roads of crazy bumps and rocks and holes and dirt and winding roads, we noticed that we had cell service…YIPPEE!!! Time to stop and check places to hang out for the night. Bud found what appeared to be a really nice hotel, so we plugged the address into our GPS. We drove awhile and when the instructions said we were only moments away, we were a little concerned. The whole area was extremely run down!
But before we knew it, there in the midst of a very questionable street was a beautiful hotel! We pulled over in front and just as we were getting out of the car a taxi driver came by beeping his horn like crazy at us. The noise was accompanied by quite the unfriendly facial expression…lol That was a first! All we could figure was that maybe that little spot was unofficially reserved for cabs. We hemmed and hauled a bit about even going in, but we did and what a gorgeous place! Once again, Bud's hotel radar landed us in fabulous accommodations. We had a lovely dinner in the on site restaurant and called it a day.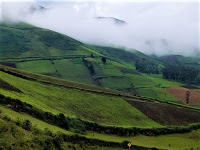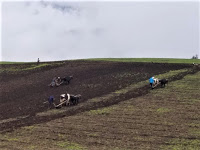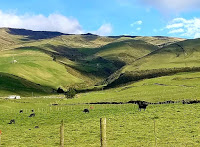 During that day's wanderings, even more so than other days, the incredible mountainside truly gave us a sense of how important farming and being as sustainable a people as possible is to the Ecuadorians. Steep slopes completely cultivated and landscaped into systematic plots of varying shades of green graced our field of vision all throughout our drive. There were other signs of the impressive work ethic of the culture during our adventure. Some will be shared in future posts.
Cuenca…we are almost there!!!