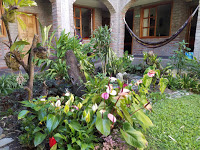 Hotel La Floresta
A Banos street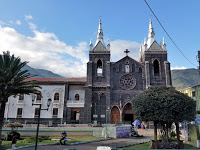 The basilica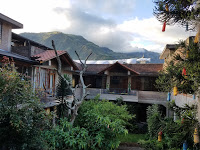 Great view of clothes on the line
and the Andes in the background…
typical sight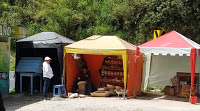 Cool little roadside tents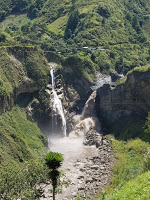 More amazing falls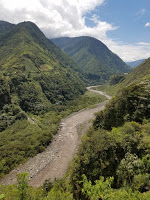 Winding mountain road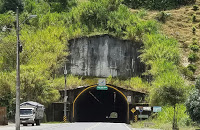 Fun tunnel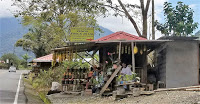 Another roadside stand…I loved them!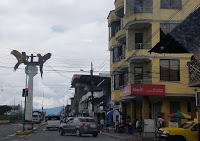 On the road to Banos, Bud and I stopped to stretch our legs. While I was buying fruit and water for us and candy for the kids along the way, Bud met an elderly man who played an 8 and 16 string guitar and sang for him. (Our pics didn't turn out) Bud came for me so I could share in this wonderful man's gift and hospitality. I slipped into the little room and sat in the "listener's chair" feeling very grateful for the opportunity. He played and sang for us, speaking Spanish as though we understood, smiling the whole time..so sweet! Perhaps we DID understand…I believe he was saying how happy he was that we stopped by and showed such joy when he entertained us! Bud brought to my attention a hammock that the local man had made. I loved it…I bought it!
As we continued to drive, we passed several 'Extreme Sports' businesses. We got out and watched people zip-line across incredibly steep chasms…at one place, they 'flew' across the sky toward two waterfalls! It was so cool. This was one adventure we enjoyed sufficiently from the position of a spectator…LOL We arrived in Banos and checked into a hotel that Bud had stayed in 6 years earlier…great choice…La Floresta was beautiful. The two levels of rooms surrounded an open air courtyard with lovely plants, flowers and chaises. It was situated right in the heart of the city and after we got settled we walked all around. We picked up a few souvenirs, discovered a gorgeous basilica and hung out in a great little park just across the way. After a little down time, we showered and went back into town for dinner. We had PIZZA at Pappardelli's. It was scrumptious. The veggies were abundant, fresh and perfectly seasoned on a thin crunchy crust! Yum!!!
The following morning, we went for massages before breakfast. Then we packed up and decided to walk through town again before we got on the road. I am so glad we did, At the far end of one of the streets, we found a waterfall!!! We climbed the stairs to get closer. The mist was wonderful. The area included a beautiful grotto in honor of the 'virgin Mary', a hot spring pool, inlaid 'floor' and side walls with 'pottery-like' pieces.. It was just lovely!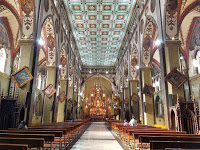 Inside the basilica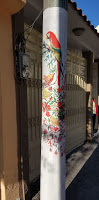 Beautiful art all around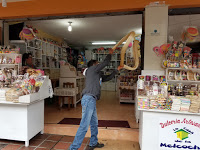 Man working with handmade taffy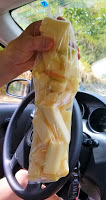 Sugar cane chunks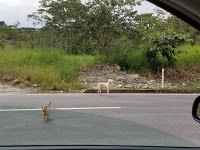 A sight very common all over Ecuador…
stray dogs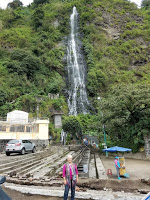 The falls at the end of the street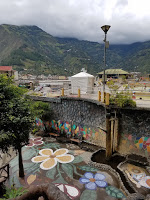 At the base of the waterfall area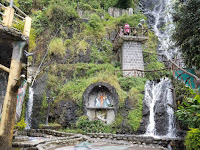 The grotto by the falls
Off we went in search of a famous waterfall called 'Pailon del Diablo.' As had happened several times before, our Google Map chick was confused…LOL So, we were on our own. Bud and his uncanny ability to just "try this road", swerved onto a cobblestone side street with an ornate wall that separated us from a rather long drop and sure enough, waaaay down the road was the waterfall!!! Actually, it was the waterfall 'entrance'! We had to hike down a mile to get to our destination! We walked and walked…there were several little fruit and water stands set up along the path. People of all ages joined us on the trek…all smiling…anticipating the prize at the end of the journey. When we finally reached a platform where a man was selling tickets to see the falls, we noticed that everyone coming back was soaked…oh, boy!!! We continued on and then…WOW!!!! The force behind these falls was truly impressive. There were lookouts at various levels. People laughing, taking pictures, wiping the water off their faces…it was amazing! Another route took us across a long bridge to a place that provided a completely different view of the wild and thunderous waterfall. We sat and just marveled over the majesty of this natural phenomenon.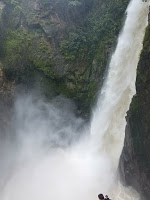 Pailon del Diablo
(Devil's Cauldron)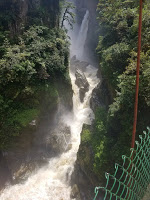 Spectacular view of the falls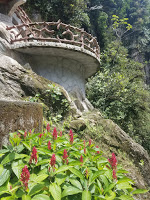 Across the footbridge where
we just sat and gazed
(this was some sort of unfinished
structure…beautiful even in its
incompletion)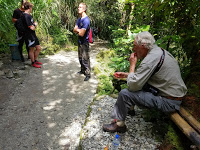 A watermelon break
Those guys in the background helped
us out where we got the tickets…they
were terrific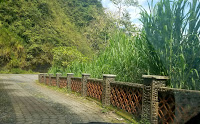 The spontaneous side road that Bud
followed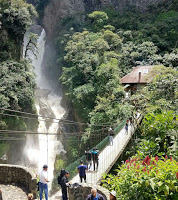 The footbridge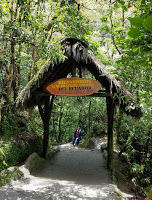 The waterfall entrance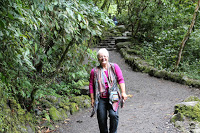 The climb back up was not nearly as daunting as we imagined it might be…a bit challenging, yes, but we DID IT!!! Stopping a few times, once to get watermelon and water served our intention of 'making it' quite well!!! What a great couple days in Banos! Next stop…Riobamba and our very scary moment!