Lake Rousseau RV Park was a one night-er, but the place was beautiful and I had so much
fun with the kids in the pool. There
were 4 of them, ages 8-11. I got them to
do crazy jumps into the pool so there would be big waves for me to ride while I
laid back on my float! It was
hysterical! Cannonballs, twists,
belly/back flops, free falls, can-openers and on and on! I thanked them for entertaining me when I left.
I saw him (about 85-90 yrs old) riding
past me as I was leaving the campground…
so cool! He had the biggest smile!
The scene of the wave-making mania!!!
THEN, I drove 2.5 hours to what I thought was going to be a
lovely campground. I even planned to
stay a week. The following 36 hours were…insane.
First, the day before, my
driver's side window broke…wouldn't close.
I had to buy a clear shower curtain and heavy duty clear tape to cover
it so the rain wouldn't cause any damage.
BUT…there was no rain until late after I got settled and covered the
window…very grateful.
The next morning the
plastic flew off while I was driving…each time it rained, it came straight down
and not into the van…very grateful.
I
had to call the resort manager to get the gate code when I arrived because no one was there…he answered the phone…very grateful.
This 'resort' was a tiny little fishing
'hole' with some RV sites and a baby alligator welcoming committee about 100
feet from my site…after I waited about 20 minutes, I opened the door and I scared it off and I was able to get out of the van…very
grateful.
Whoa..is that a…..?
It certainly is!!!!!
The rains came before I got
the window covered again…a beach towel was handy and I hung it from the visor
and used a pillow to keep it in place…minimal wetness…very grateful.
I couldn't work on my class because there was
no internet…wifi nor hotspot worked…it was getting hotter and hotter and there were 6 steps UP to the bathrooms and showers…not the place for me. I tried to call my son…not enough service…so, I
left my bike, pool float, beach chair, a tote with clothes and things to ship to MD, and a bag of Goodwill donations next to the picnic table at my site. I unplugged the electric cord from the van,
pulled down the top and drove far enough to get phone service…Matthew
answered the phone and took the time to figure out where I was and find a place
for me to stay for the night…very grateful.
I left a message for the park owner letting
him know what I did and that I'd be back in the morning to take care of
everything. I asked about an auto repair place at the front desk of the hotel…there
was a Ford dealership/service center next to the Hampton Inn that ordered the
part and it would be in and repaired by the next day by 5:00PM…very grateful.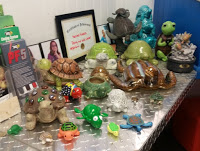 A turtle collection at the Ford dealer-
ship..go figure…I knew I must be in the
right place…LOL
I spent 2 hours looking for a different
campground to stay at, realizing I couldn't stay at the one from the morning, that was within a reasonable distance from the Bintelli
scooter dealer because of my apt there on Monday…found one, very grateful.
I spent a lovely…cool…evening in my room
working and relaxing, very grateful. I
slept great and enjoyed a free breakfast of cheesy scrambled eggs with steak
bits, English muffin and fresh fruit, very grateful.
I called and left a message that I was on my
way to get my things at the campground.
I arrived and told the lady in the office what was going on and she said
to just go and get my things…that I didn't have to pay for leaving them there
overnight, very grateful.
I went to my
site and…ALL MY STUFF WAS GONE!!!
Returning to the office quite shocked and confused, I told the
woman. A camper registering overheard
and mentioned that she saw a gray pick up with a small silver bike in the back
on her way into the park. The woman
working there said that was the owner's truck.
WOW! She suggested that I stop by
his house (he was not answering his phone) seconds away and knock on the
door. Well, I went there. His house was on stilts and there were at
least 40 steps up to the door. So I just
yelled, "Hello" and blew my horn a few times.
No luck. I saw my bike in the
back of his truck, I helped myself to it!!!
Right back in the van it went, very grateful.
No
signs of everything else. I returned to
the office and told the woman what I did.
She insisted he was an honest man and was probably just holding my
things for safe keeping…sure, ok! I
requested that she ask him to call me and let me know where my things were…if
he was such an honest man. My question
was, "Why didn't he just call me and ask about my things…IF he didn't get my
messages and was concerned that I left them in error?" I drove away never to go back, very grateful.
After talking to my son about the incident, I
told him I was grateful to have my bicycle back. He added that gratefulness for having my LIFE
might be another…I agreed! I am very grateful!
While my van window was being replaced, i had lunch at a nice little place next door to the dealership and checked online for places that might have the kind of electrical cord I needed. I found one and they would deliver it to the next campground within 48 hours, very grateful.
***I heard once that if the only prayer we ever say in this life is, "Thank you," it is enough. I learned a while back that if you look closely at any situation, event, relationship in your life regardless if you would label it as 'bad,' 'negative,' 'unfortunate,' or downright 'horrendous,' you will find a nugget of grace worth being thankful for. I have to say that it has been, to this day, one of the most valuable pieces of wisdom I have come across.