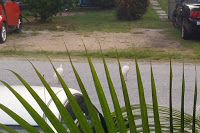 A couple of egrets on an afternoon stroll
Bright Spot- My friend, Andrea became
a grandmother!!! Welcome to the world,
Hazel!!!!!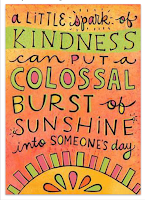 Thought for the Day

My last three weeks have been spent reading, writing, appreciating the beauty around me and just 'being' much of the time. I made a few trips to the end of the peninsula here to a beach called Passe a Grille. It is situated at the tip of the stretch of land and you can watch the sun rise and set from the beach. YES…THE EASTERN AND WESTERN HORIZON ARE BOTH VISIBLE! It's pretty awesome!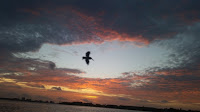 My FUZZY pelican friend
Check out the dangling leg…lol
Just like a toddler…fast asleep…limbs
just flop!!!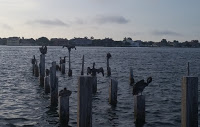 The one in the middle with his wings
out had just landed
Just lovely
Serene
Fun-painted boat
I am in the home stretch with my foot rehabilitation. No more boot as of today! I can walk barefoot with one crutch indoors through next Wednesday, then a sneaker with one crutch a few days until my confidence and balance is stronger, then…..two feet, two sneakers and no crutch! I will be on the road again by the 19th of this month. First stop…Orange Grove Campground in Kissimmee, FL.
I have planned on at least a week's stay at various campgrounds on my travels through Alabama, Tennessee, Kentucky, Ohio, Pennsylvania and then into Maryland for my son's wedding October 17th!!! My off-campground excursions will be minimal during this leg of my adventure as my foot continues to regain its strength and range of motion. The patience and commitment to full healing now will pay off later…so I'm told! Since walking, hiking, bicycling and scootering are major aspects of my chosen lifestyle…at least for the next several years…it is important that I do what is best for my
'healing process' NOW…as torturous as it might seem for awhile.
The adventure IS continuing and there will be Bright Spots and stories and pictures many many things to be grateful for and excited about upcoming!!!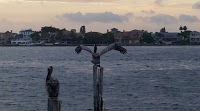 Another recent lander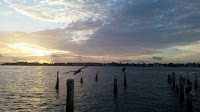 OK, put down landing gear…
almost to the pole!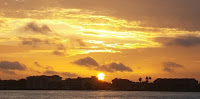 Zoom in and you'll sorta see a hamburger sun…
Thin slice of cloud right through the center!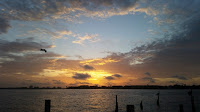 Good morning, sun!
Shadow of high flying pelican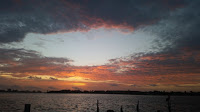 Nature's picture frame of clouds!!!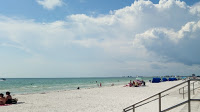 West side…the beach
SUNSET !
I love the golden exclamation point!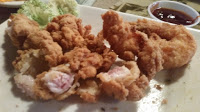 OH, and by the way…I had alligator
nuggets!
Pretty darn tasty!!!
Sunset draws in a nice crowd!
Attendance higher than sunrise…
folks are already up…LOL
Sweet dreams, Sun!
Aaaahhhhh…
so peaceful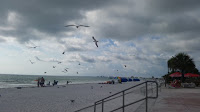 Evening snacks provided by the sunset
seekers…happy pigeons scoop up and
chow down!!!