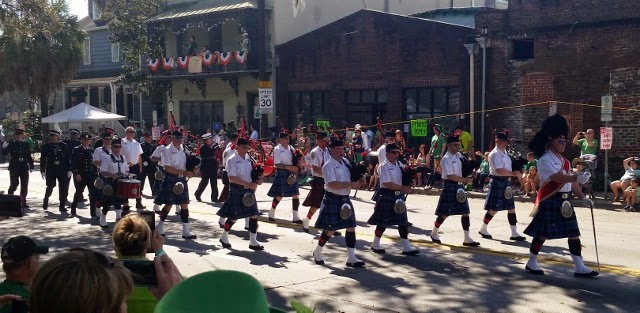 Kilts and bagpipes!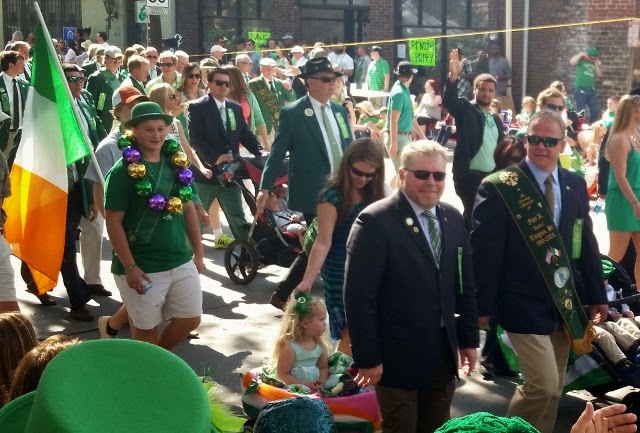 Dignitaries, children and random guys
with humongous beads around their neck!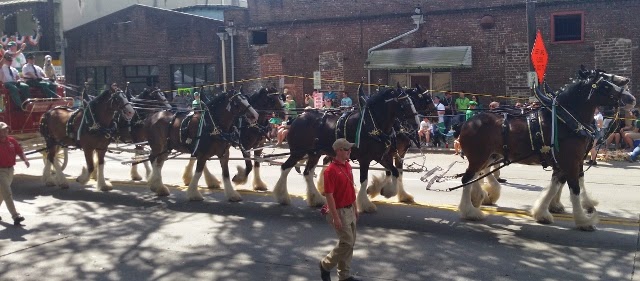 Budweiser and the Clydesdales!
Awesome dudes with
spectacular hats!!!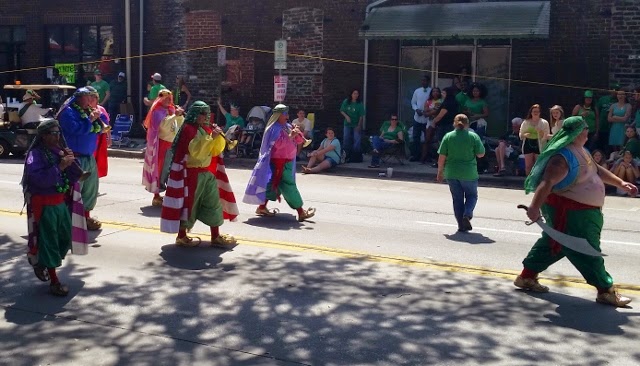 Outrageous characters!
Parade day finally!!! Walking from the shuttle to my bleacher seat was an amazing sea of green…50 shades of green at least…LOL Babies, children, teens, adults, pets…a beautiful array of race, gender and nationality could be seen with a slight turn of the head! Everybody is IRISH on St. Patrick's Day in Savannah! It was great!
A smile of…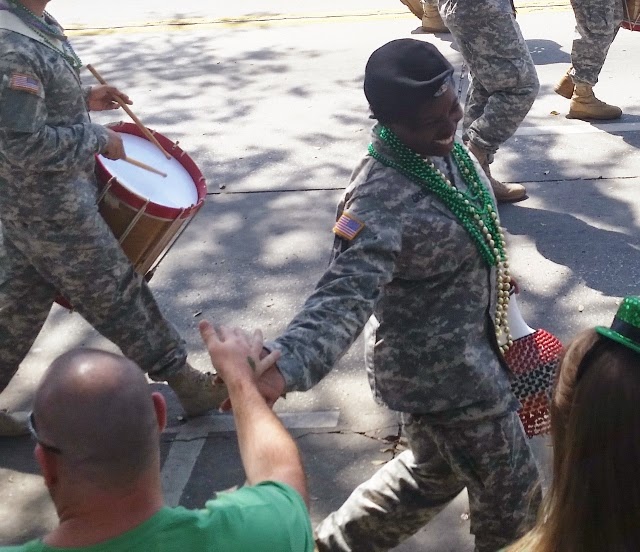 …being appreciated
The most memorable parts of the parade for me were:
1 – the standing ovations and over all respectful and appreciative response to the armed forces, war veterans and community service folks as they passed by
2 – seeing the gentleman holding a bald eagle pass right in front of me
3 – being fortunate enough to have the bagpipers actually play right where I was sitting
4 – watching the young boys run out and place green beads around pretty girls' necks so they would get a kiss
5 – sitting directly across from kids that had a bubble blowing machine!
Ahhhhh!!! And then, of course, there were the cool people I met while there.
Bright Spot #1 – Ileana was there with her friend, Dan!
Ileana & Dan
Ileana had a beautiful spirit and has reached a point in her life where she is allowing herself to do things that SHE wants to do. Still very committed to her family, she is realizing that there is room for everyone now that she is retired. Ileana, may you find joy in all your pursuits, big or small!!!! Oh, and Ileana…you give the best hugs!!!
Bright Spot #2 – I had the distinct pleasure of meeting Linda and Mary from Connecticut…alias, The Village Chicks…alias, the MVB's (Mayberry Village Broads). These 2 fabulous women have been friends since they were like 5 years old!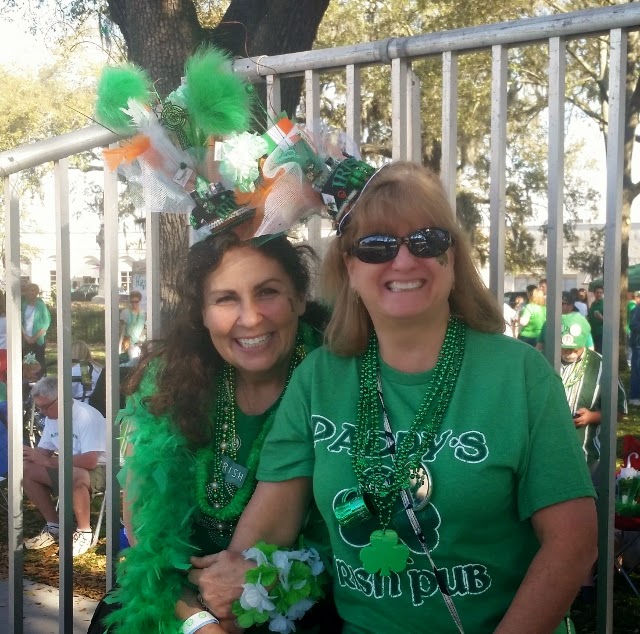 Linda & Mary
Mary told me that she knew they would be friends for life when in 3rd grade, she was being teased by 4th graders and Linda (a 4th grader) defended her!!! Mary still lives in the town they grew up in and Linda about 20 miles away. They love to take little trips with each other whenever time and schedules allow, but this was their first BIG trip together. From all outward appearances and an afternoon of chatting…it has been a real success!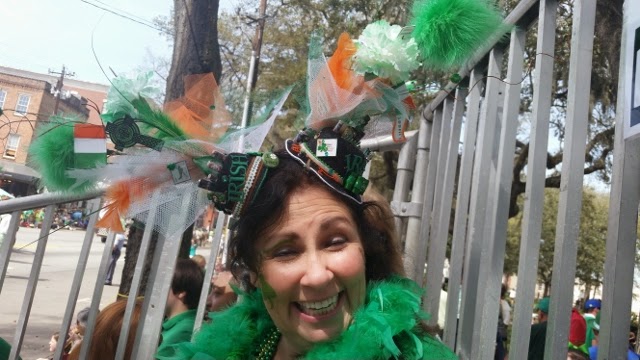 Linda…a bit later in the day…LOL
Mary…succumbing to hat karma…LOL
Mary's sister handmade the spectacular head pieces they wore…maybe you can zoom in and see some of the detail. After having so much fun during the parade, we had lunch together where the Chicks shared some great travel tips. We exchanged contact info and I'm looking forward to staying in touch with them.
A few more 'must-haves' in any self-respecting ( St. Pat) parade…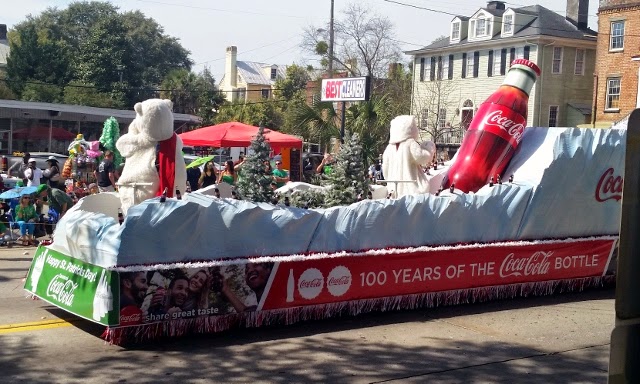 A Coke Float with Polar Bears!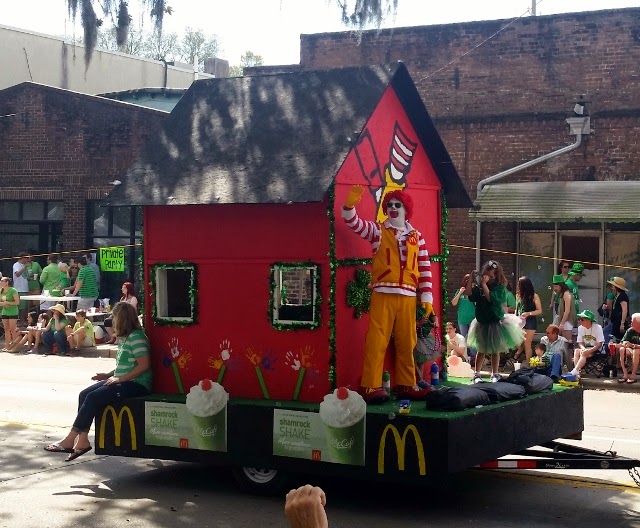 Ronald McDonald himself!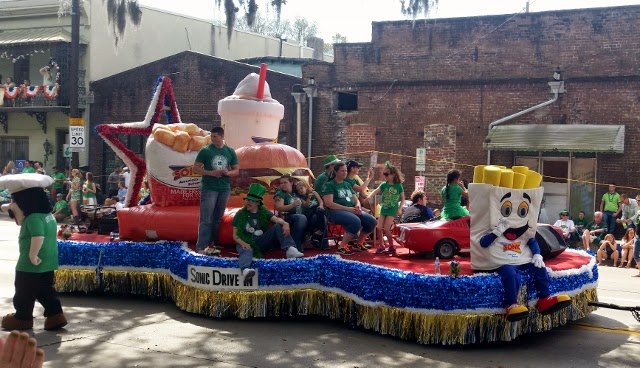 Snacks from Sonic!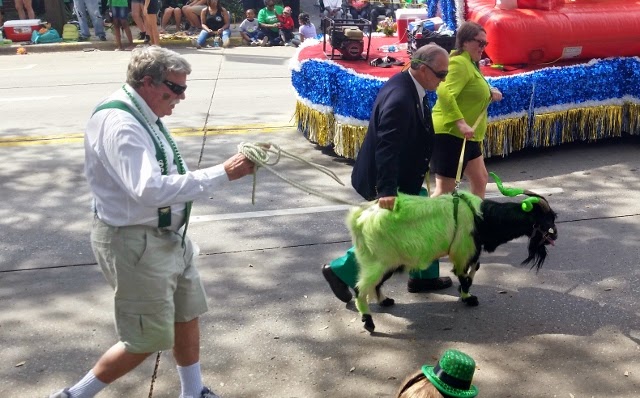 A Partially green goat!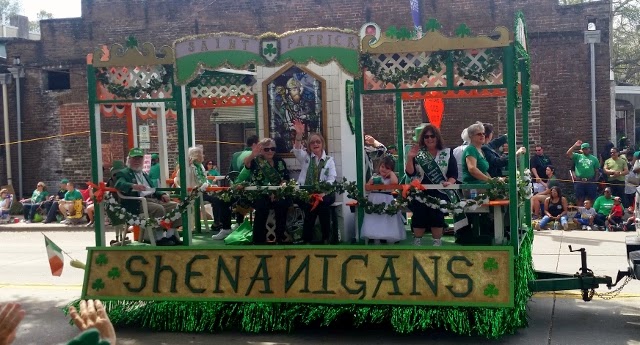 Shenanigans…in and out of the parade!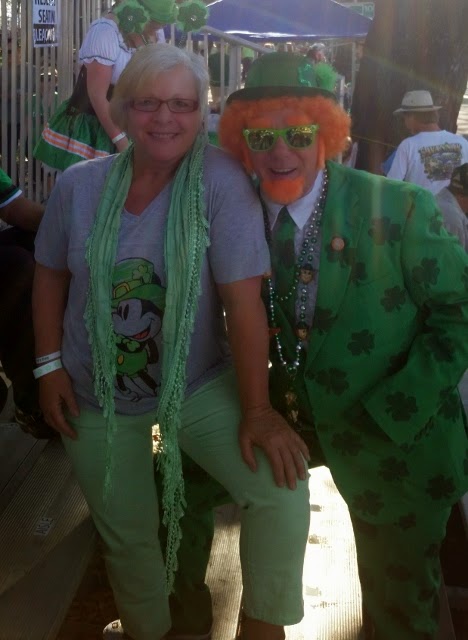 AND…last but not least…a LEPRECHAUN and his Lucky Charm!