Once upon a time, an otherwise intelligent woman exercised a
rather silly non-thought-out move and wiped up the asphalt with parts of her
body! YES…I attempted to scratch my
right ear with my left hand while riding my scooter at 35 mph. All the questions you are asking yourself
about that decision of mine, I have already asked myself and I can save you
some time and energy…there is no reasonable answer!
Given the fact that I lost control of the bike, wobbled for
who knows how long while I tried and landed in the opposing traffic lane where
the scooter fell on top of my left foot whose shoe was attached to the rear
wheel…I made out pretty good! People
from everywhere it seemed came to my side immediately. The bike was lifted off of my foot, my shoe
broke which released my foot from the wheel, and folks lifted me out of the
street and onto the grass. A very nice
woman named Cindy called all the appropriate rescue people and my cousin,
Chris, whom I was visiting!
Within moments, a fire truck and ambulance was on the
scene. After answering a zillion
questions and the paramedics had sliced up my jeans…I just laid back and
breathed several deep breaths of extreme gratitude. I had no idea what was cut, bruised or
broken, but it didn't matter. I was
alive, I could breathe, think and speak and I was being well cared for by
perfect strangers. My guardian angels
had worked overtime on my behalf that day without a doubt.
On the ride to the hospital, I was noticing that there parts
of my body that were burning and other parts that were throbbing. All I could do during that time was to
breathe slowly and deliberately.
My entire ER experience was as good as it gets, I'm
thinking. All those attending to my
needs were kind, efficient, knowledgeable and humorous. They provided a much needed levity without
disregarding the painful reality. An
example was when the attendant snipped off the final threads to remove my
jeans, he apologized for having to throw them away. I said, "No problem, they were on their last
leg anyway!" The registration nurse, the attendant and I laughed
hysterically! The craziest part was that
I hadn't realized I made a funny until the nurse slapped her hand on the
counter and cracked up!
After the results of the 12 x-rays were in, the doctor
stopped by to explain the results. He
said that at my age…and given the conditions of the accident…having but 4
impressive road burns and only ONE broken bone…I was one lucky woman! Miraculous, to say the least! He went on the say that I had fractured my
left heel bone, would be put in a splint for a week, then either a cast or a
boot and be out of commission for 8-12 weeks.
P..A..U..S..E.. My first reaction to the news was one of
extremely mixed emotions…mostly gratitude and devastation!!! A weird combination, huh?
My cousin Chris and his wife Carol arrived at the hospital
after they went to the scene and recovered my scooter and helmet. That was only the beginning of a week's worth
of loving care they graciously provided which included helping me keep things
light. On Friday I had my appt. with the orthopedic
surgeon. Then on Saturday they drove
Van-Go and me to my friend Marie's…a 4 hour trip!
But, all things considered around the entire incident, it's
a mere temporary inconvenience at best!
Besides, I've got my site set on 6 weeks…not 12…LOL And
I'm recuperating with a boot and not a cast (Thank goodness!), at Marie's place
in Madeira Beach, FL…exactly one block from the beach! So, really, how bad could this be! LOL
Another fun fact…Marie just moved here 3 weeks ago! Had she not been here and welcomed me to stay
with her until I'm up and about, I may have had to fly back to MD,
and….well, let's just say I'm very grateful to Marie!!!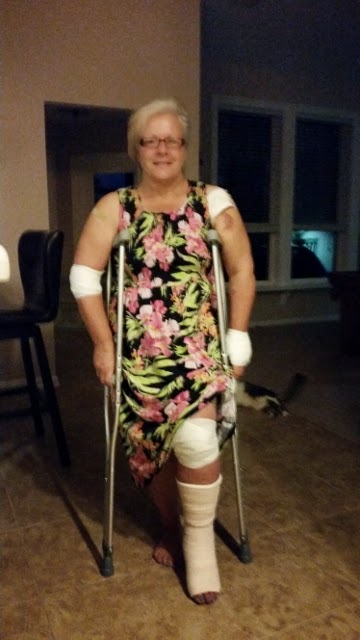 Pre-boot pose
ER splint
***Updates of the "boot adventure detour" will be forthcoming…stay
tuned!***