After a long drive, I was glad to arrive at my next stop. I arrived late and it was nearly dark, but a very kind woman met me at the entrance to give me my camper's packet and welcome me. A good night sleep followed getting settled in. The following morning I woke up to bunnies everywhere! Outside my door, along the road, under trucks…when I went up to the office to pay for my site, I was told that 2 years ago there were only 5 rabbits…we laughed and laughed!!!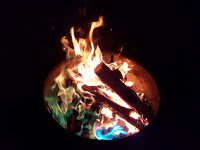 My rainbow fire
BRIGHT SPOT – What a delightful surprise to find that there was a waterfall right on the premises of Shenandoah Valley Campground. I might not have known about it if it wasn't for me having the distinct pleasure of meeting Jackson! I was walking and alongside me came Jackson who was riding his bicycle. We immediately began chatting about….oh, several things, actually. We talked about the bunny "take-over" first as it was front and center…and on both sides and behind us…LOL He said he could show me the waterfalls if I wanted him to. "YES, please", I exclaimed. So off we went still chatting, with Jackson riding slowly and me walking fast so we could keep up with each other. Finally, we reached the falls and the little beach area….it was so cool! It was there that Jackson, age 11, told me about his dream of becoming a paleontologist! He studies snakes! He is in middle school and loves Math!
After we hung out at the falls a bit, he took me around the campground to show me where the pool was. Once we got back to where our sites were (his family's was right next to mine), I went into the store to get some bunny food and Jackson and I sat along the road feeding the multitudes…lol
Later, I went over to introduce myself to his parents. What a lovely family. I told them Jackson was polite and funny and a wonderful guide! I am grateful to have made a friend in him. Keep in touch, Jackson. I want to know about your own adventures!
That little one seems awful curious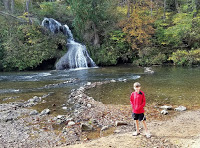 My friend, Jackson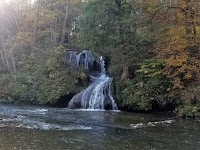 Falls at the campground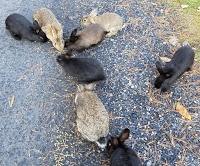 Here they come
No fighting…there's plenty for all of ya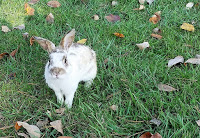 Yes, I am taking your picture…lol
Thanks for posing!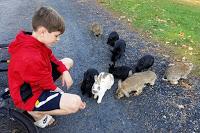 Jackson had them eating right out of his hand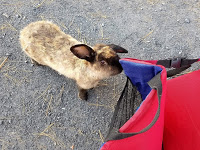 Hey, get out of there…lol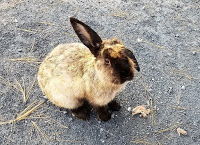 How cute is this bunny?! Ole lop ear!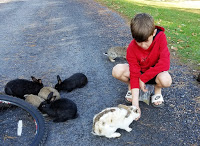 Back for more…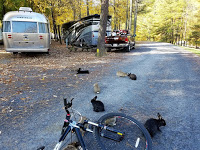 I can't tell if they are coming or going!