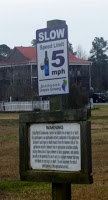 A speed limit sign with a
picture of wine on it…LOL
This was at the entrance of
the vineyard…last stop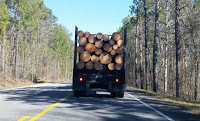 I just have a thing for logging trucks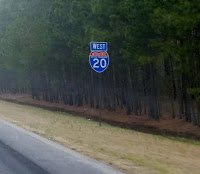 Westward – Ho! Here we go!
Between NC and AL, we spent the night at a Camping World parking lot and arrived at our campground right around noon. What a beautiful property! A pool was situated out at one end and a clubhouse at the other. The lake there was so serene and the houses with boat slips along its shores looked like something you see on a postcard. There was a windy walk down to the lake and a large covered deck with picnic tables overlooking the water. If you went down the stairs, there were huge flat boulders where you could sit and gaze. Several mornings that is where you could find me waiting for the sunrise. Each day was different…clear or foggy…still spectacular in my eyes!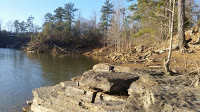 The rock seats at the base of the steps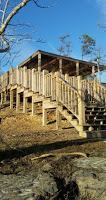 Covered picnic tables
with steps to river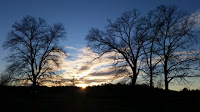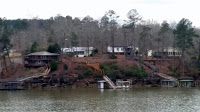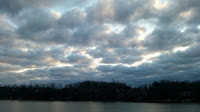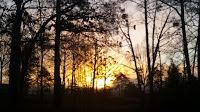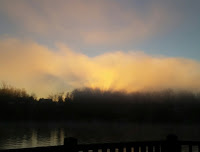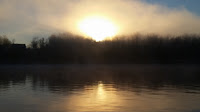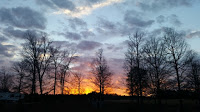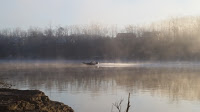 BRIGHT SPOT – The very first morning I went to the river, a man came along with a fishing pole (bass is plentiful there). We exchanged 'Good mornings' and when I commented on the incredible fog strewn across the houses and water, he replied, "Yes, it truly adds a sense of mystery to the lake. I've lived here all my life and I never tire of its beauty." That simple remark from his heart sparked a feeling of wonder and appreciation in mine… for my life, for the glory of nature and for the opportunity I have every single day to recognize each moment that I am alive as a blessing . The brief encounter with a 'stranger' heightened my awareness and revived my connection to all things. Though I didn't get his name, I felt like I knew him somehow even for that moment. He will never read this, but I wish to acknowledge him for touching my life in such a sweet way.
He caught a fish within 15 minutes, headed back up the hill and wished me a good day as I did him, feeling grateful that he happened by.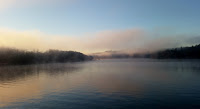 The BRIGHT SPOT morning!