After 6 months of being on the road from a near-miss blizzard to across the southern U.S. in the dust and humidity and living the camper's life (which we love), we decided a little pampering was in order! Hidden away in the town of St. David lies an amazing retreat/respite from the 'outside' world and its hustle and bustle. This gem is the "Down by the River" B&B!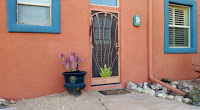 I love purple cactus!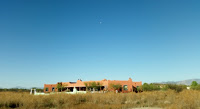 View of the B&B from the river path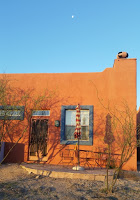 Our private patio outside
our suite
Cozy spot in the breezeway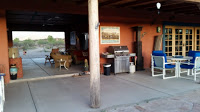 Back of the B&B…we grilled
steaks and onions for dinner
The grounds, 16 acres, were stunning. The desert at its best. Carl and I were greeted by the innkeeper, Darryn Cray seconds after we pulled up.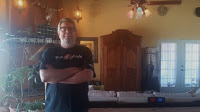 He welcomed us and showed us around the place. He shared that 3 couples left that morning and so we had the entire 5,000 square feet all to ourselves…oh, yeah! Our suite, called the 'Bird Room' was more than either of us had anticipated. The ambiance was light and airy and the decor impeccable. It seems that this area is a huge birding paradise and our room reflected that. Above the headboard hung a beautiful quilt depicting the state birds of the lower 48. Once we got settled in, Carl and I took a walk around the exterior and interior of our home for the night.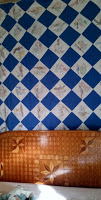 Quilt with the state
birds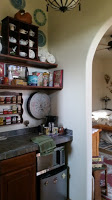 Kitchen area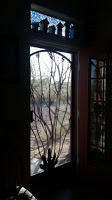 Door to private patio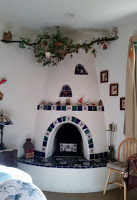 Fire place in the bedroom
First of all, our suite had a private patio, a king-sized bed with a pillow-topped mattress, a beehive fireplace, a whirlpool tub/shower, a table and chairs for two, fridge, microwave, coffee maker, and everything we could possibly need for eating in. We knew ahead of time about the BBQ gas grill, so we bought steaks, onions, potatoes and green beans to make for dinner.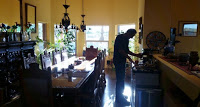 Carl making coffee at dawn
Then, in the common area was a pool table, shuffleboard, a large screen TV housed in a spectacular entertainment center, a couch that you didn't want to get out of, a formal dining room, a small reading nook, and access to music piped into the area. It was wonderful. Outside was just as amazing!
Darryn returned awhile later to share a bit of housekeeping info and reminded us that he was completely accessible for anything we might need. We did call on him for grill instructions and butter and he graciously came to our rescue…lol He described the morning routine and asked if there were any modifications in the timing that we required. We didn't really except for our departure time which fit right into his schedule! After we ate our yummy dinner, we watched TV for an hour, then played several games of pool and a few of shuffleboard before turning in. We had a blast!!!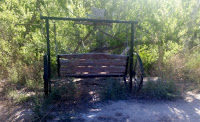 Swing overlooking the San Pedro River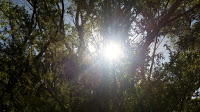 A new day dawning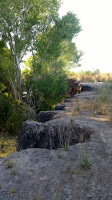 The cliff above the river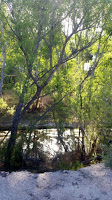 A glimpse of the
San Pedro River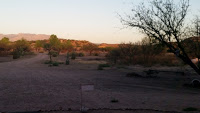 Path toward the river
Early in the morning, we decided to go out for a walk down by the San Pedro River…that is on the property. On Darryn's neighbor's property, there was a swing overlooking the river that was available to us…it was wonderful to sit there and listen to nothing but the birds chirping! We got back to the B&B just in time for our delicious smoothies. Shortly thereafter, our gourmet breakfast was served! Darryn created a special stuffed French Toast…if memory serves, between two slices of rum-soaked bread was anjou pear, ham, and cheese and on top was strawberry compote drizzled down the sides with additional anjou pear garnish. On the side was a lovely mixed berry and lemon custard dish!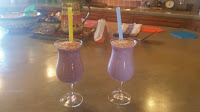 Yummy!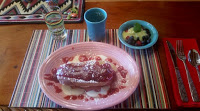 Yummy!
Yes, Carl is eating his Snickers
with a fork…lol
Absolutely scrumptious!
Darryn hung around and chatted with us during our meal and shared how he and his wife Liz came to purchase the B&B. Awhile back, Darryn was a tour/road manager for rock bands that ran the gamut from Manilow to Metallica. Then he shifted careers a bit and has been organizing large corporate events/keynote speakers for several years. He is currently the Senior Executive Producer for Encore Productions out of Las Vegas. With that being said, running a B&B had been on his and Liz's bucket list, so they traveled around the world visiting B&Bs getting an idea of what they wanted for theirs. In doing research, they found this place and discovered that a distant relative of his was the original owner of this property…that information, the awesome location and a great deal clinched it….this was the one! So, Darryn gave Encore his 2 years notice (plans for events are scheduled 2 years in advance) and began the adventure of an innkeeper. After a tremendous clearing out of 'stuff' inside and out and quite a bit of sprucing up…the Down by the River B&B turned into a luxurious, yet simple and welcoming place to get away from it all! Darryn and Liz plan to have a Grand Re-opening on September 1, 2016…one year after they opened for business. He has visions of raising chickens and goats and making his own cheese as well as adding other desirable and perhaps eclectic features to the property….I don't want to give it ALL away…lol.
Darryn and Liz have two children that have chosen quite interesting careers of their own. Their son, Jeromy, is a chef at the Hard Rock Cafe in Los Angeles and models for Lucky Jeans. Their daughter, Vyctoria (Torry) manages night clubs and models as well. Fun! Fun! And more Fun!
***Thanks, Darryn for a great stay and we hope to return in the Fall after our time in Alaska!