So the morning after the B&B, totally refreshed, we drove to Gammon's Gulch…"A Living Museum…Authentic and Haunting." Jay Gammon, owner and resident of this old western town/movie set, greeted us as we arrived and took us on a personal tour of this eerie awesome place!
Neat piece of movie set trivia…
this stands as a church in this pic…
when they need a school, the cross folds down.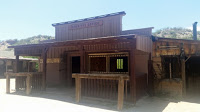 The Saloon
The whole experience was like being in a time warp…The saloon had pictures of movie stars that spent time there during the making of a movie…a honky-tonk piano that Jay entertained us with and round wooden tables like those back in the day where the guys played cards. This is also where Carl and I ate our picnic lunch while chatting with Jay after the tour. He told us so many fabulous stories about John Wayne, Kurt Russell, Glen Ford, Maureen O'Hara and Val Kilmer and tons more. Jay's father worked in the business too and Jay got to act as a piano player or an extra in a lot of movies.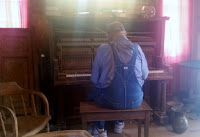 Jay playing for us
In addition to the saloon on the set was a blacksmith bldg, a jail, hotel, Chinese laundry, an old stagecoach, a barber shop and so much more. Jay left us on our own after the tour to take pictures. We had a blast!
The back of the garage door is where
Jay kept records of his vehicle
maintenance…too cool
Jail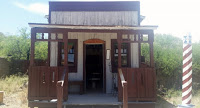 Barber shop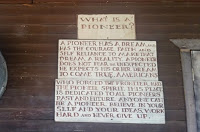 I suppose many of us are pioneers
of today…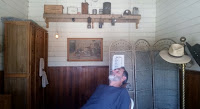 Shave and a haircut $.05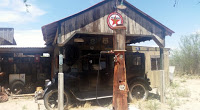 Old gas pump…wow
It has a crank pump
What can I say?
If he had lived and died
back then,,,at least they'd
have had a
box long enough…LOL
General store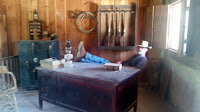 "Not till you are done serving your time.
Missy!"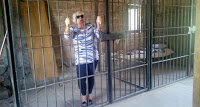 "Hey, you, over there…let me out…NOW!"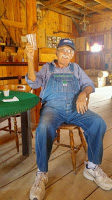 Jay having a snack
with Carl and me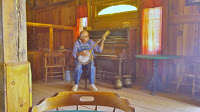 Jay on banjo!
Jay was absolutely wonderful to us! He played the piano, banjo or harmonica the entire time we walked around. We could hear the Old West music as we walked the street…it really felt like we were back in the time of the cowboys and dancing girls and gun fights! Thank you, Jay for your time and for taking such good care of us! Oh, and, Joanne…thank you for the card and sweet treat you left for us in the saloon…that was so thoughtful AND delicious!
Yummy!