You know how sometimes you think you are going someplace for a specific reason and then discover that you REALLY ended up there for an entirely DIFFERENT reason???!!! Well, I'm pretty sure that is what happened to me here. My plan for this location was to experience peace and quiet and Florida's tallest waterfall…73′! All the pics I had seen were beautiful. I was so excited to see it that I drove there in the van before I even went to my camp site. As it turned out, it was more like a water-trickle! There hadn't been much rain recently for it to flow fully!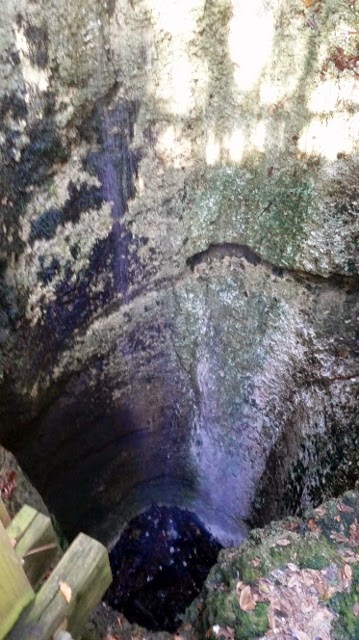 the 73′ sinkhole it
falls into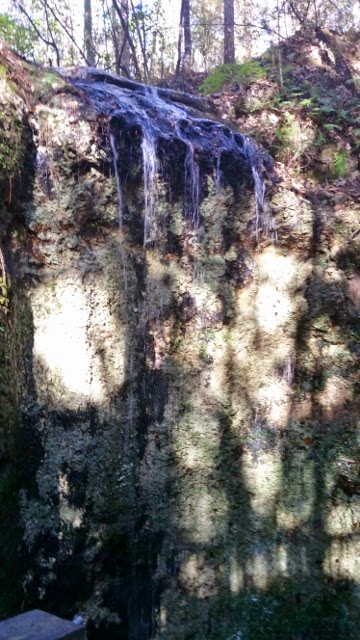 the water-trickle lol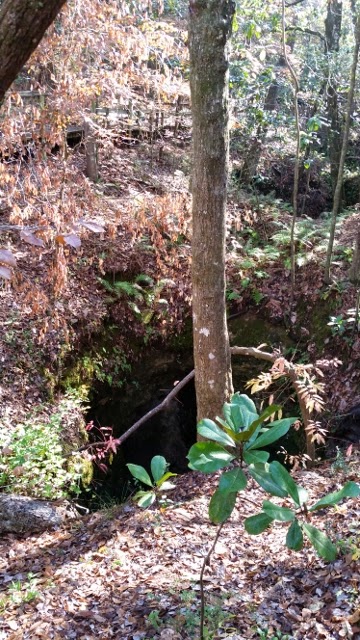 other sinkhole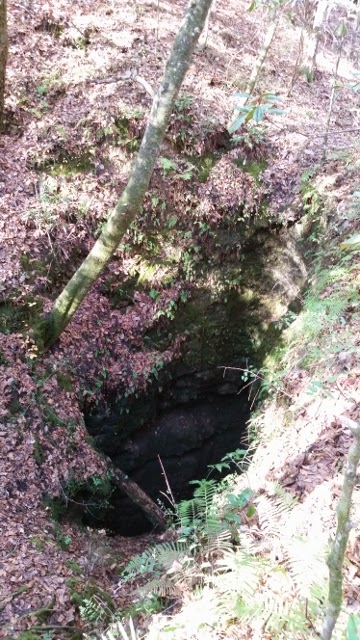 other sinkhole
So I went to my site a bit disappointed. I read the park info and saw I couldn't hang my hammock because I wasn't at a HAMMOCK site and ropes around these trees could cause major problems…okay, I rode my bike to get firewood at the ranger station and they had just sold the last bundle!!! Then around 5:00pm, the neighboring site had a 'friend reunion' including 3 adorable but very noisy little ones that had very loud fun until about 9:00pm. So, no waterfall, no hammock, no firewood and no quiet…hmmm???
It was certainly not a total loss because my hiking did yield some very lovely foliage and a very sweet lake and beautiful 'reflection' pictures.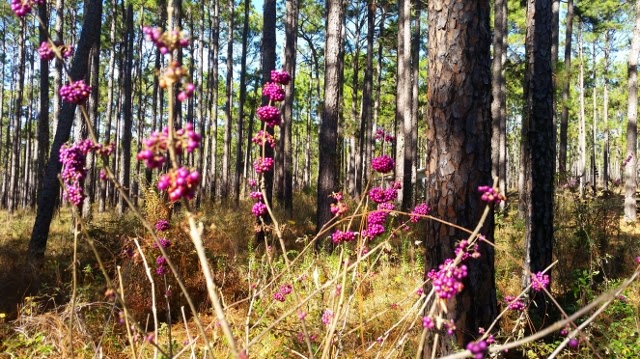 fun flowers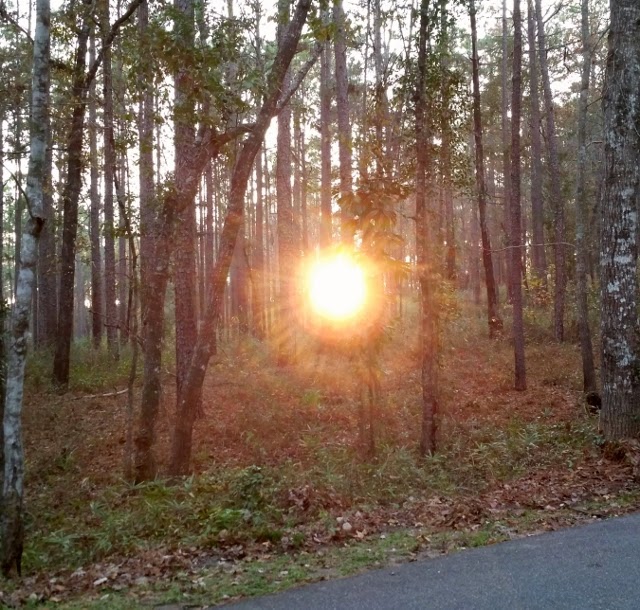 sun playing peek-a-boo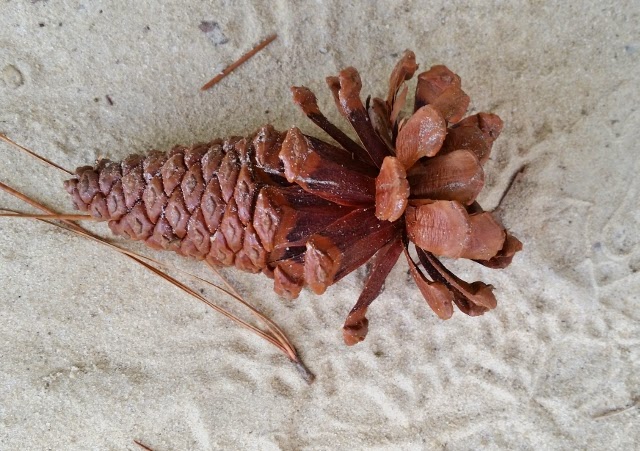 a bloomin' pine cone!
covered foot bridge to the lake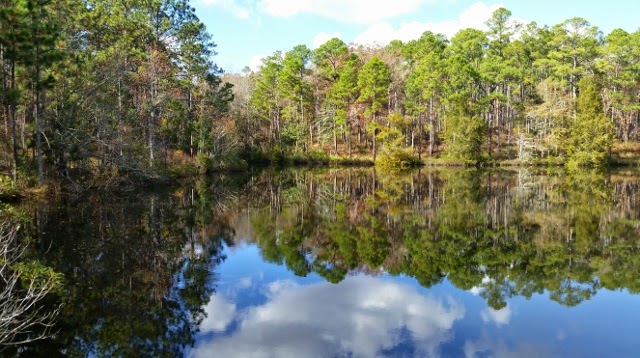 reflection along the lake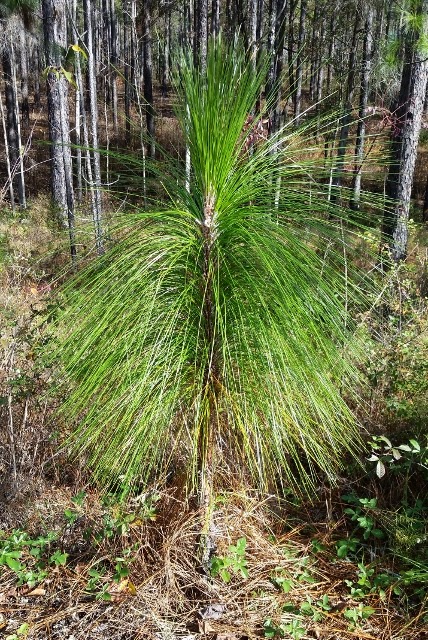 long leaf pine tree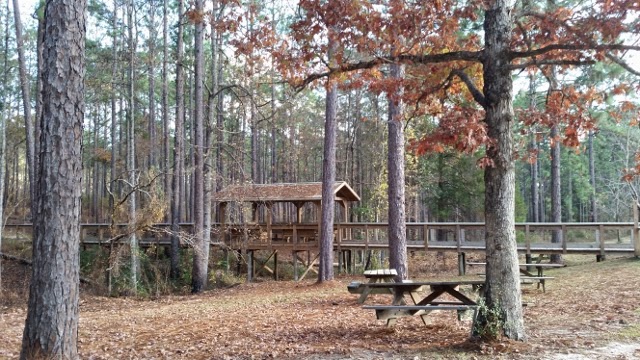 another view of the bridge
However, I truly believe that the main attraction here was the delightful woman at the ranger station that greeted me when I arrived. Bright Spot – Kim got so tickled with my quotes that she walked around Van-Go and took pics of each one! She thanked me for spreading joy with her lovely smile! It was one heck of a welcome for me! Then when I went to get (no)firewood, Kim was so excited to show me something…she was even gonna come to my site had I not shown up at the ranger station. One of the pictures she took was glazed with streams of sunlight that showed up PINK! It was absolutely beautiful. None of the other pictures had any sunlight on them. The quote was "Nothing is impossible…even the word says I'm POSSIBLE." I returned to see her the next day to figure out how to get the picture to me and she was making a very unique garland for the station's light decorations.
finished product…how cool!
supplies for garland around the lights
We got to talking and she had such a wonderful story to share…she had been looking for a part time job for quite sometime and in October her sister called and told her about this position. Well, Kim went the very same day and applied and got the job! She was elated to have a job that allowed her to have nature all around her. She grew up in nature as a child so this is perfect for her. She has recently experienced other synchronicities like wishing her water bill was a certain amount and when the bill arrived it was the exact amount! She was walking on her way to the pharmacy and found a pile of money equaling $13…her Rx was $12 and with the extra dollar she bought a lottery scratch off and won $2! She needed a w/d and was checking around for a good deal when she got a call about a set that was in perfect condition that she could have for FREE!! WOW…this is a woman that is living 'in the flow'! I'm so happy that she flowed into my life! And THAT is why I think I ended up here at Falling Waters…to meet Kim! Thanks for sharing your wonderful spirit!