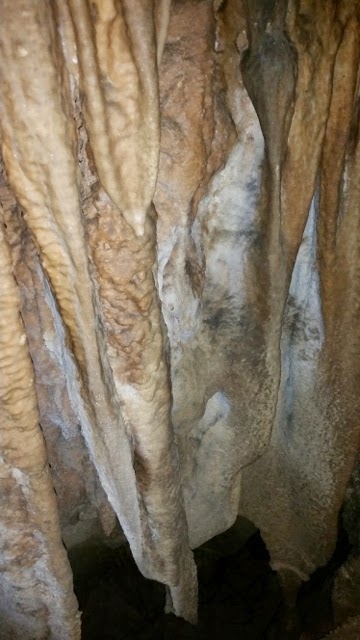 these are called
"curtains"
Next stop…only 30 minutes down the road! I've seen several caverns over the years, but this limestone cavern offered a smorgasbord of visual bliss!!!
Once I got settled in at the campsite, I hopped on my scooter and scouted out the park to see where I could handle riding my bike and where the "Breeze" would need to take me! Everywhere I looked there were moss-covered tree branches and these weird little spikes shooting out of the ground!
They were, to my amazement, tree roots referred to as Cypress knees! "They come up to get some air and a little sun," is what the tour guide told me. Soooo cool! There was a 'swimming hole' at the park and the water was crystal clear. the sunlight made for some fascinating pictures!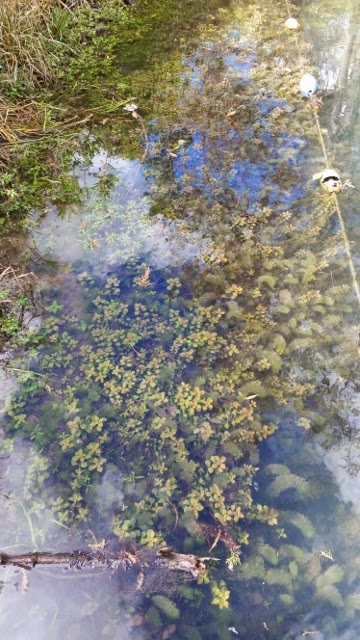 looking down into the lake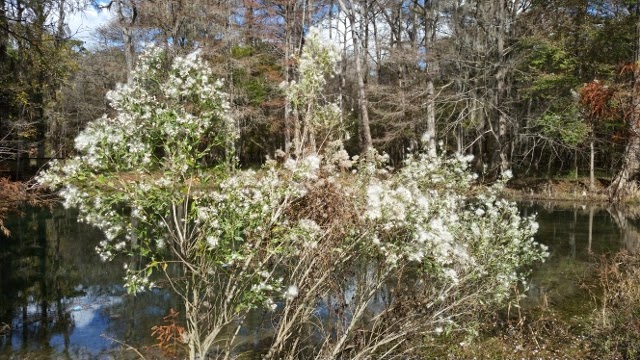 awesome bush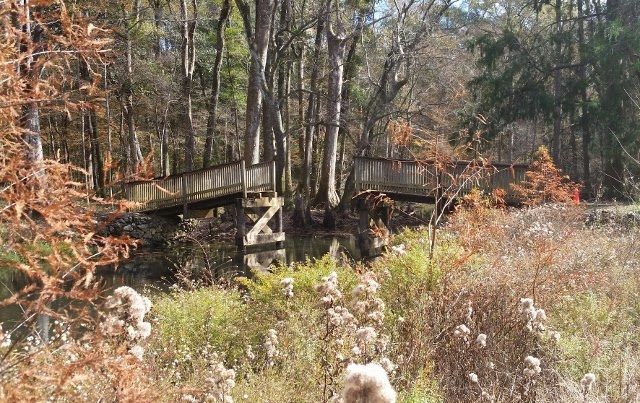 broken bridge makes a great scenic
backdrop
So back to the caverns. There were 8 rooms of varying sizes and heights! YES, even I had to duck through a few pathways…lol Every single room was a surprise to the eyes! If you think that if you've seen one cavern you've seen them all…think again. I felt like a kid in a candy shop. In addition to being visually outstanding…just knowing that it was all a natural phenomena that created this wonderland made it awe-inspiring.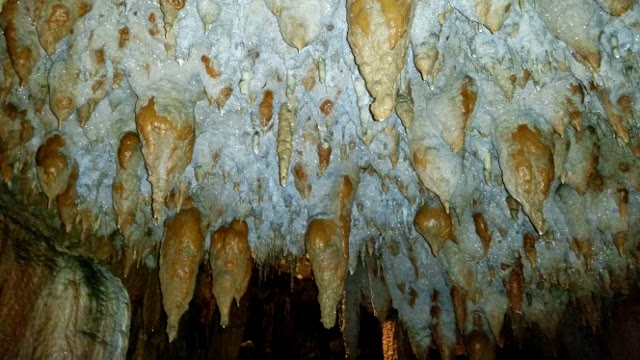 looks like the underground view of
a potato garden!
Can you imagine what it must have felt like to discover these caves and be on the team that did the work to make them passable for touring? WOW! The last room was called the 'Christmas Room' because of the lights that have been installed to display a spectacular array of colors! It was such a beautiful collaboration between man and nature…a true artistic masterpiece.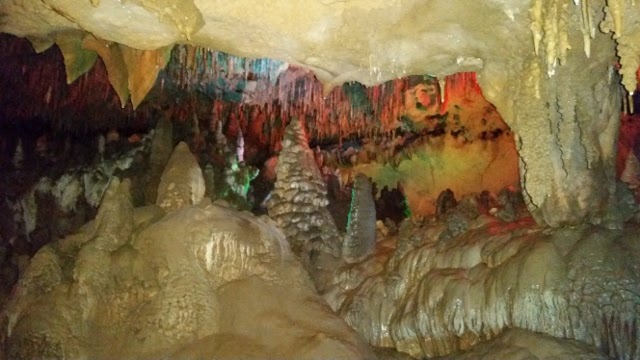 Can you see the tree?
The next morning, I rode my scooter into town for breakfast at a local diner that came highly recommended to me…Bobbi's Waffle Iron.
Bright Spot – There I had the absolute pleasure of meeting Alice. Alice was my server extraordinaire! She was so bubbly that I HAD to see if she had a happy thought for the blog! Well, immediately after I explained about my bright spot section, she threw her arms up and said, " You wanna know what lights me up..right there in that seat…my granddaughter!" I turned around and there was Michelle, age 14, with a huge smile on her face. I introduced myself to her. Alice went on to say that Michelle was home schooled and she just loves to be with her grandparents. The love coming from this amazing woman could be felt all around that room. All three of them were beaming. Oh, that brings me to Jerry…granddad! Having been married to Alice for 38 years, he reminded her that HE was the light around all of them! He was sincere and humble and funny! What a sweet family. As an aside, Alice if you are reading this…the peach cobbler was delicious!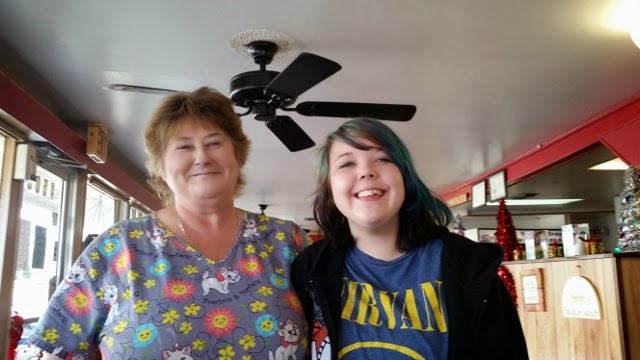 Alice and Michelle