Our Christmas was great! The few days before, we spent time with Carl's daughter-in-law, Katherine and hubby, JP in Punta Gorda. It was wonderful to see Carl's grandson, David and his girlfriend Brie, too. Quite a menagerie of cute little critters are also part of the family. We were invited to soak in the hot tub one evening and….IT WAS FABULOUS! Thank you! Thank you! I was talking to Katherine about what was particularly great in her life so I could include it in the blog and she said that we were.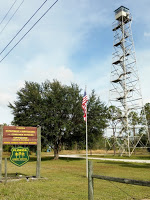 JP works for the Florida Forestry.
He is a wetland fire fighter. We were able
to stay on the property there where they live.
Thanks, FL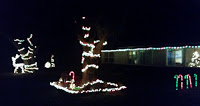 Add caption
BRIGHT SPOT – Katherine lost both of her parents this past summer and she was anticipating a sad and lonely Christmas. She shared that Carl and my visit for a few days was her bright spot this year. *Katherine…we would like you to know that it was our pleasure spending time with you and your family! It was a bright spot in our travels as well. Thank you for opening your home to us and hopefully next time around we will be able to hang out a little longer! God bless you and have a loving and peaceful holiday season.
Christmas Day was filled with great love and joy and laughter in Pasadena. Carl's mom, Ruth, her longtime friend, Jim, Carl's brothers, Kenny and Keith and his wife, Mary Lou spent the day together thoroughly enjoying each other's company! Keith prepared dinner for all of us which was wonderful.
Thank you, Keith!!! It was the first time in many years that Carl's family spent such a great time all together on Christmas! It was blessing to be a part of such a celebration.
Carl and me
The whole gang
L-R…Jim, Ruth, me, Carl, Mary Lou,
Kenny and Keith.
The Girls
The Brothers
Mom and Son
Of course, I chatted with my 3 sillies on Christmas morning. Matthew called on his way to PA with Adam to visit family there. Rachel called and then sent cute pics of the puppies opening their gifts…too cute! Nicole called and sent pics of Cameron and Jay in their Christmas pajamas!!! Adorable. And all was well with my little sista Tanya and Amy! I am grateful that our families were all healthy and happy this holiday season!!!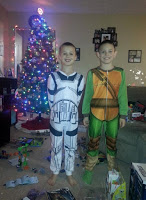 Cameron and Jay
Rachel and Megan's 1st and 2nd Christmas tree
Leon and Loki waiting patiently for the
go-ahead to open their gifts.
Gia hiding behind the presents…silly cat!
The darn thing totally died BEFORE
Christmas even arrived.
I'm sure Rachel and Megan had a blast
vacuuming up all those nasty needles…
bummer, man! lol