Abita Springs is a neat little town in Louisiana! The streets are lined with antiquated live oaks and the houses are mostly 1900 style cottages. One fascinating thing about this town is the history of its healing waters…clip borrowed from the internet)
Healing Waters Of Abita Springs
It is said that this town holds a rich source of powerful, healing waters in its rushing waters. This water, which was used for medicinal purposes by the Choctaw Indians for centuries, is said to give new life to all who use it. Some of the stories of the waters invigorating effects have been passed down throughout the years to both residents and visitors. It is said that a young New Orleans man who lived near the town in the late 1700s went hunting near the embankments of Lake Pontchartrain. While hunting, he stumbled upon a stunning Choctaw woman, whom he married, immediately.
Once home in New Orleans, he watched his new bride deteriorate, growing wan and weak. After visits from many doctors, no one could determine the root of the new bride's troubles. This young man returned to the Indian tribe where his young wife had been living and spoke to the medicine man, hoping beyond hope that he could give some kind of hope to the dire situation. On the advice of the Choctaw medicine man, the young woman-bride was placed upon a hammock into the waters of what is now called Abita Springs, and left for a few days. When the young man returned to check on his wife, he was astonished to see the beautiful, healthy woman he had married. (end of internet clip)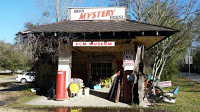 We discovered a fun place called the Abita Mystery House. It is fun and funky and quite creative…it was actually inspired by the museum in New Mexico called Tinkertown that is located along the Turquoise Trail on the way to Sandia Crest. Both are great…the latter is much larger.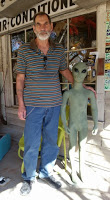 Scary faces…LOL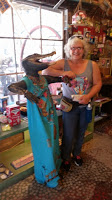 Funny faces…LOL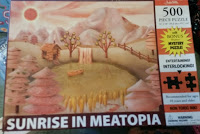 Gotta love this!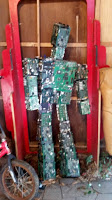 Circuit board robot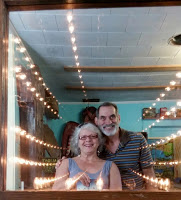 Crazy mirror shot!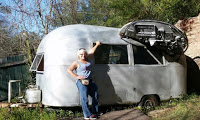 An authentic Airstream with
minimal alien spaceship damage…
wonder what they want for it? LOL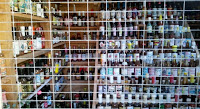 Inside the Sauce House…incredible
collection of hot sauces!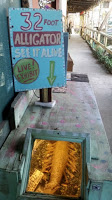 Pretty clever, huh?
There is also a Tammany Trace trailhead right in town. That's a 31 mile long rail trail where the Illinois Central RR used to be. It is quite beautiful coursing through 5 communities just north of Lake Pontchartrain. You can traverse areas of woodsiness, suburbia and wetlands along the full length of the trace. We walked a couple miles, but I'd love to go back with my bike and go the distance…maybe I will…LOL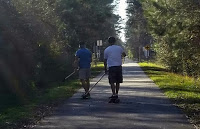 So cool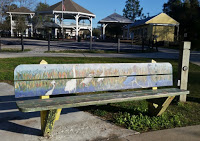 Local artists' handiwork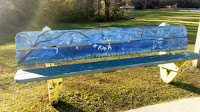 In the park by the trailhead
Love bridges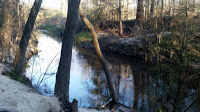 Sight on either side of the bridge!