When my children were very small I started a tradition where I would spend a day with each one of them individually at some point throughout the year and we would do fun things that were suggested by them. It has always been something that I have looked forward to and cherished. This continued through their high school years. Growing up, college life, having different schedules, not living together and my moving to New Mexico 4 years ago has contributed to the somewhat 'less than guaranteed consistency' of our special day. However, it has not become obsolete!!! I spend time, even if only for a few hours with each of my kids…now 32, 27 and 25 whenever possible when our geographic locations are compatible! I'm pretty sure they still enjoy it…but even if they only join me to see how happy it makes me….well, I'm okay with that!!! LOL
Last night, Rachel and I went to the Little Italy Open Air Film Festival to see "Hairspray"…the original from way back! We had dinner at Amici's Italian Restaurant and then found a spot amidst the crowd to set up our chairs. This has been a tradition in Baltimore since 1999.
Movies are projected on the outside wall of Ciao Bella Restaurant in the Da Mimmo Ristorante parking lot from across Stiles Street at the kindness of its homeowner – from resident Ray Lancelotta's third floor bedroom window. Ray is the nephew of the previous homeowner, the late "Mr. John" Pente, who wholeheartedly supported the Film Fest from its inception by allowing the use of his home for the projector (now a DVD setup). Mr. John passed away in 2011 at age 100 yet wanted the movie legacy to continue in his beloved neighborhood. Open Air Film Fest is sponsored by the Original Little Italy Restaurant Association.
The bedroom window where the film
is shown from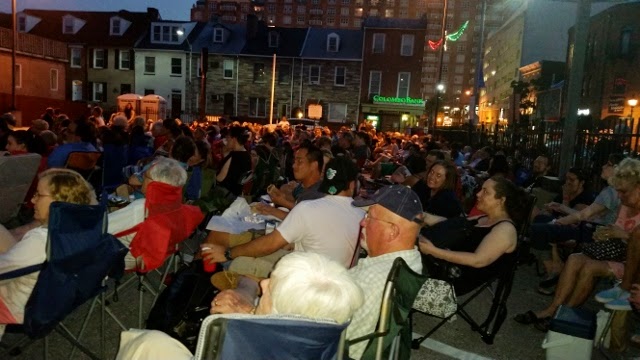 The movie-goers!
Full moon over Little Italy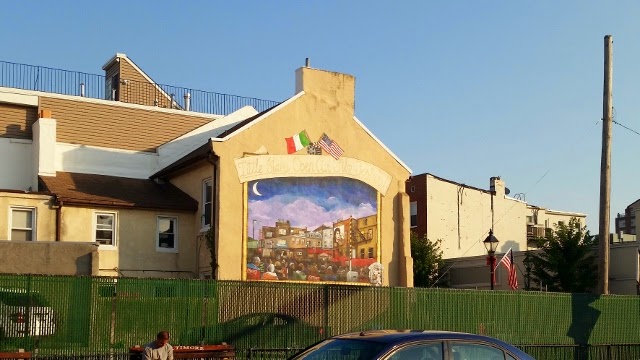 A commemorative mural about a block from the lot
where the films are shown
Anyone who has ever lived in Baltimore
or knows anyone else who has will
appreciate this message on the screen!!!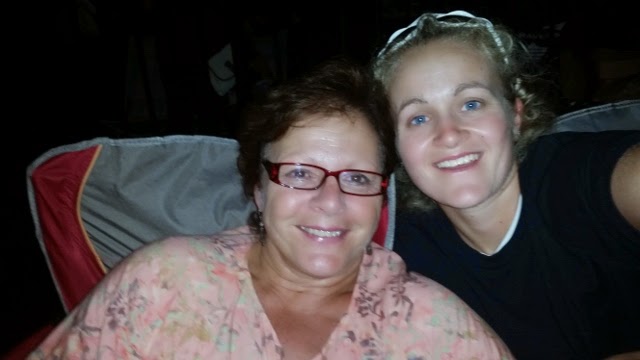 Rachel and I after the show