Before I get into the story of this quaint museum, I'd love to share a little about the place we stayed…the Sycamore Lodge! It was fabulous. The lodge was huge and there were rooms to accommodate many needs…a cozy yet spacious living room for watching TV, a rustic dining area with over-sized picnic-type tables and benches, a library for quiet time, an enclosed porch with tables for playing games or doing puzzles, a piano, and last but certainly not least a very roomy bathroom with an old-fashioned claw-foot tub and a double shower! I got to take a bubble tubby at a campground…THAT was a first…LOL
The grounds were as wonderful as the community lodge. We took several walks and each one offered something new to feast your eyes on. More amazing mushrooms, paths, funky trees, etc. It was a great campground!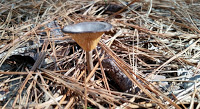 The stem was a golden color!
Looks like a martini glass…lol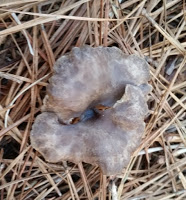 Looks like a flower, doesn't it?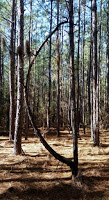 Oh yeah, awesome tree trick
Looked like meringue swirls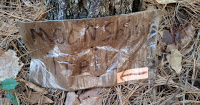 Cool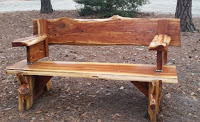 Top of bench on hinges…it folded over
to create a table and bench!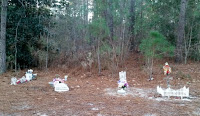 A sweet little pet cemetery in the back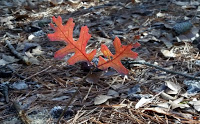 The only two orange leaves as far
as the eye could see…standing
straight up
NOW…the museum! It was built in Victorian style architecture. It had exhibits and artifacts from the Aberdeen & Rockfish RR and seeks to preserve the Union Station Depot. Bob Martin was our personal tour guide extraordinaire. You could tell he enjoyed his role! He was a dear…since the tours were by appointment only, we called him up and he arrived at the museum within 10 minutes for us! It was such a delight talking with him and hearing about the railroad.
Carl being cool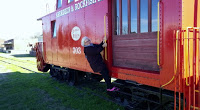 Me just hanging around…lol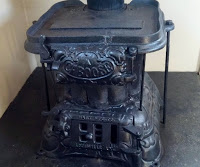 The actual wood burning stove used
in the caboose of the freight train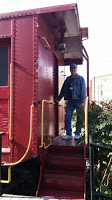 Our tour guide…
Bob Martin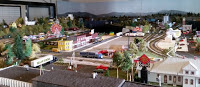 A small section of the indoor garden
depicting the town of Aberdeen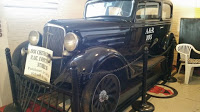 A 1935 Chevy fully restored and donated by
the A&R for the railroad's 100th anniversary in 1992.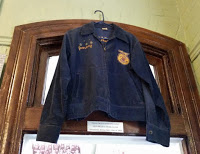 So excited when I saw this FFA jacket…
brought back wonderful memories of
when my son, Matthew, was involved
in this organization in H.S.
One of only 2 inspection cars left in the
U.S
An original registry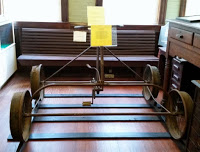 A utility rail cycle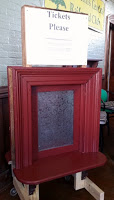 The frame from the original
ticket window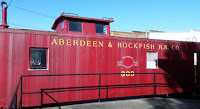 Renovated caboose…#309 was built by the A&R
from a wrecked boxcar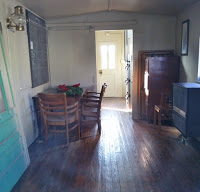 Caboose interior today
One afternoon, we ventured out to visit the small town of Pinehurst. There we discovered Betsy's Crepes…an extremely yummy find!!! Many other fun sights crossed our paths throughout the day.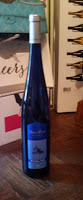 30″ high wine bottle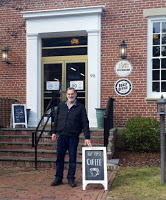 LOL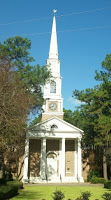 A sweet local church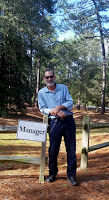 LOL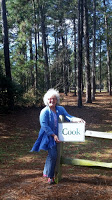 LOL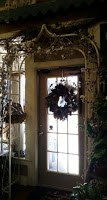 Trellis bordered with
natural cotton still on the 'stalk'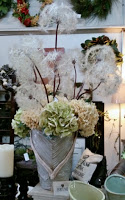 Giant "wishies"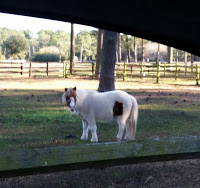 Saw on the road from Pinehurst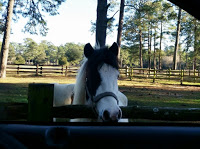 What a ham!!!
Tree magic!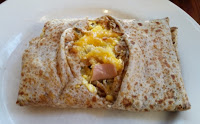 At Betsy's Crepes…sooo delish…savory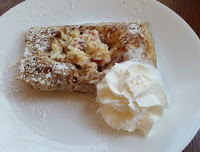 Also at Betsy's…sweet!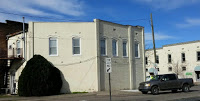 The 'stars' along the exterior walls are covers
for the steel bars that ran through the
buildings as protection from potential
hurricane damage