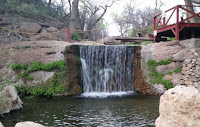 These falls poured into the swimming
pool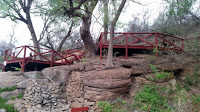 Climb to the top
Roaring Springs, TX…where and what the heck is that? Geographically, it is kinda northwest in the state. Historically, it was originally a Comanche outpost. Then as part of the Matador Ranch, in anticipation of the railroad coming through, a town was created and named Ragtown. Once they got a post office in 1913, they got serious and changed their name to Roaring Springs. Now it is a 746 acre privately owned RV and Golf Ranch that includes the Roaring Springs Falls that feeds their enormous swimming pool providing a water temperature of about 63 degrees year round….a tad too chilly for either Carl or myself!
Bald eagle just soaring through…
thanks for the show!
The stream we had to
drive across anytime
we went anywhere in
the ranch
Spring has sprung!!!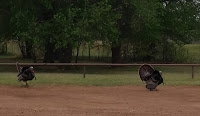 Prancing turkeys…they were all over
the place
Another awesome fire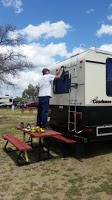 Carl hard at work
using his ingenuity…
we don't have a ladder!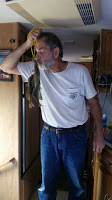 Sweet catch!!!
1st time out!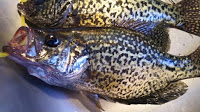 Soon to be dinner…thanks fishy!!!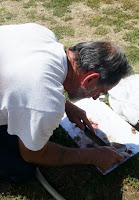 Carl doing 'the deed'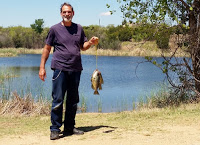 Got me some big ones today!!!!
Since it is still off-season, 5 of the 8 days we were there, we were the ONLY people on the whole ranch!!! It was kinda cool! We went fishing…Carl actually caught a total of 6 fish…good eatin' too! I got up early and caught a few really nice sunrises. Carl rubbed out the oxidation on the motor home and waxed it…looks amazing! I hung out at the waterfalls by the pool a few times reading and being!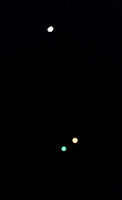 An almost full moon and
2 campground lights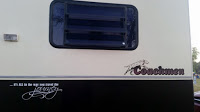 Quote number 1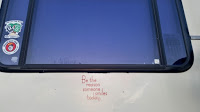 Quote number 2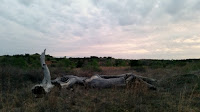 Does this shot scream TEXAS or what?!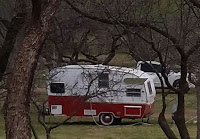 Little retro camper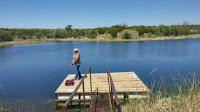 If I don't catch one today,
I ain't playin. no more…
LOL
We also made a new friend at the ranch. Bright Spot – SMURF!!! The ranch dog! His owner is a truck driver, so he hangs out at the ranch making new friends every day. What a sweetheart! Smurf is blind in one eye and totally deaf. Neither condition hinders his sparkling personality!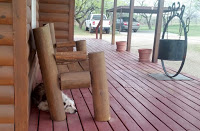 Smurf guarding the office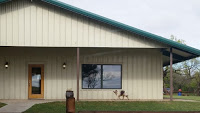 Smurf making his rounds
Being one of the only campers there, Smurf took a liking to us and slept under the motor home and greeted us in the morning. He would chase us from the Community Center to our site and taking a dog-run shortcut, he always won!!! Smurf made our stay much warmer. Thanks SMURF!!!
We went into town one day to see what we could see and there…was…nothing…it felt like an old ghost town! The nearest town was Matador, 8 miles away, and there was a small grocery store, a cafe, a gas station, and a lovely B&B.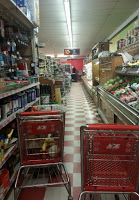 The grocery store in Matador…
produce on the right and auto
supplies on the left!!!!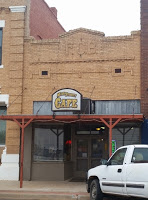 Carl and I had two meals
at this cafe and it was great!
Speaking of the Matador B&B… Bright Spot – A friend of mine from NM who was not going to be in NM when I was there (next stop) just happened to be traveling East and 'almost' passing through where Carl and I were staying on their way….Cheryl and Marty rerouted a smidge to meet up with us in Matador! They stayed at the local B&B and we all had a wonderful time hanging out. There was no place opened to eat dinner when they arrived, so they followed us back to the 'Ranch' and we scrounged up some food and had dinner there! The following morning, Carl and I drove into Matador to have our morning meal with Cheryl and Marty at the B&B before they went on with their journey. It is always sweet for me to reconnect with friends I haven't seen for awhile and this special reunion was no exception!!! Thanks guys for stopping by!!!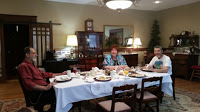 Breakfast with friends!
Hotel Matador great room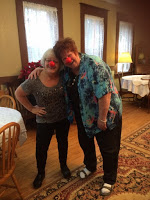 Cheryl and I being…
Cheryl and I…LOL
Old friends and new friends!!!
How great is that!